$30,000

Top Prize

$3

Ticket

1:3.62

overall odds

64.31%

sold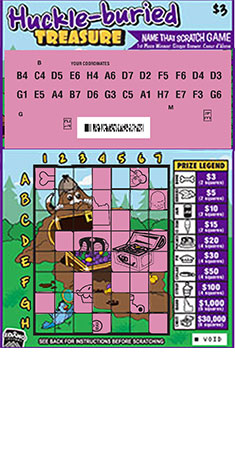 The game was Idaho-inspired. And so is finding the $30,000 buried treasure hidden in the grid-style game with the Idaho-themed name. "Huckleberry Hound" is on the case, snooping around the huckleberry bush to find treasure, or cash winnings, in a treasure chest filled to the brim with amethysts, emeralds, rubies and gold coins.
Huckle-buried Treasure was the game name inspiration of Ginger Brewer, from Coeur d'Alene, and the winner of last year's award-winning Name That Scratch Game contest where players submitted over 8,000 unique game names to become new Idaho Lottery tickets.
It's just a funny pun I thought of for Idaho's state fruit, the huckleberry," said Ginger Brewer of her original description of the idea.
And just to add character, Idaho's state bird, the mountain bluebird, is searching for treasure as well with a magnifying glass. And the winning symbols, they're huckleberry inspired as well including jam, pancakes, pie, and syrup.
Enjoy Huckle-buried Treasure all spring and summer, even during picking season, and enjoy the $30,000 top prize even more. And be sure to thank Ginger for the sweet name of this truly Idaho ticket.
Prize Amount
Number of Prizes
Remaining Prizes
Odds
$30,000
2
1
1:307,950
$1,000
3
1
1:205,300
$100
144
54
1:4,277
$50
2,065
809
1:298
$30
3,087
1125
1:200
$20
9,240
not available*
1:67
$15
12,312
not available*
1:50
$10
16,946
not available*
1:36
$5
27,710
not available*
1:22
$3
98,544
not available*
1:6
* Real time data on prizes below $25 are not available.
All tickets, transactions, and winners are subject to Lottery Rules and State Law. Prizes must be claimed within 180 days after the official end of game. Persons altering tickets are subject to prosecution. You must be at least 18 years old to purchase a ticket.