$1,000

Top Prize

$1

Ticket

1:3.76

overall odds

14.84%

sold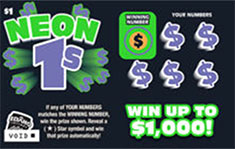 It's electrifying. It's psychedelic. It's mind-blowing and might even glow in the dark! Okay, it might not actually glow in the dark, but it looks like it should. Neon 1s, an exciting $1 game with a top prize of $1,000 features four different, groovy, outrageous 3-d-esque ticket colors to choose from! There's neon green with purple, there's hot pink with neon green, there's purple with bright tangerine, and there's bright tangerine with aquamarine! It's Neon 1s with a chance to win an exhilarating top prize of $1,000!
Prize Amount
Number of Prizes
Remaining Prizes
Odds
$1,000
3
3
1:285,300
$100
70
61
1:12,227
$40
840
721
1:1,019
$16
2,137
not available*
1:401
$8
4,989
not available*
1:172
$4
26,394
not available*
1:32
$2
80,618
not available*
1:11
$1
112,711
not available*
1:8
* Real time data on prizes below $25 are not available.
All tickets, transactions, and winners are subject to Lottery Rules and State Law. Prizes must be claimed within 180 days after the official end of game. Persons altering tickets are subject to prosecution. You must be at least 18 years old to purchase a ticket.