$10,000

Top Prize

$2

Ticket

1:3.79

overall odds

60.1%

sold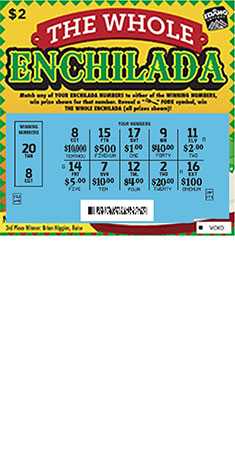 It's the big deal, the whole shebang, the kit and caboodle, the whole ball of wax, the whole nine yards – it's The Whole Enchilada and it comes with a mouth-watering top prize of $10,000. Now that's a lot of Salsa Verde on the side!
This Scratch Game comes with green sauce, red sauce, with melted Queso Fresco and served up on a plate with a couple of red hot chili peppers. In addition to the appetizing top prize of ten grand, The Whole Enchilada was last year's Name that Scratch Game contest third place winner, submitted by Brian Higgins of Boise!
Grab a fork, grab your scratcher, grab a couple of enchiladas to go and play to win the top prize of $10,000. And don't forget this game goes great with a side of $5 Macho Nacho scratch tickets, too!
Dive into The Whole Enchilada the next time you visit your hacienda grande, aka – your nearest Idaho Lottery retail location. With winnings like this, you'll be saying "Olè" in no time!
Prize Amount
Number of Prizes
Remaining Prizes
Odds
$10,000
2
1
1:246,050
$500
4
1
1:123,025
$100
124
45
1:3,969
$40
1,714
756
1:287
$20
4,921
not available*
1:100
$10
7,392
not available*
1:67
$5
19,663
not available*
1:25
$4
22,126
not available*
1:22
$2
73,852
not available*
1:7
* Real time data on prizes below $25 are not available.
All tickets, transactions, and winners are subject to Lottery Rules and State Law. Prizes must be claimed within 180 days after the official end of game. Persons altering tickets are subject to prosecution. You must be at least 18 years old to purchase a ticket.