$250,000

Top Prize

$20

Ticket

1:3.47

overall odds

49.71%

sold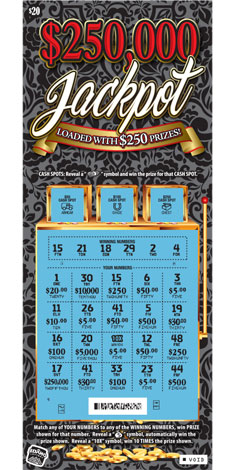 While not named the golden ticket, this game comes pretty darn close to it. $250,000 Jackpot is one big golden money machine with twenty-three chances to win riches, up to the top prize of $250,000! This big money machine is just waiting to pay out in gold coins (or green cash at your favorite store) when you hit the big one. The game comes loaded with $250 prizes and includes three Cash Spots to win money instantly!
Start by playing the CASH SPOTS. If you reveal a "STACK OF CASH" symbol, you win the prize for that CASH SPOT: $50, $100, or $250!
If the main game, match any of the twenty YOUR NUMBERS to any of the six WINNING NUMBERS and you win the PRIZE shown for that number. If you reveal a "MONEY BAG" symbol, you automatically win the prize shown. If you reveal a "10X" symbol, you win 10 TIMES the prize shown. That golden money machine will just start pumping out gold coins…or you could just hand the ticket to the store clerk for validation.
It's bold. It's classy. It has 23 different chances to win. Give $250,000 Jackpot a try for your chance to win up to $250,000!
Number of Prizes
Prize Amount
Remaining Prizes
Odds
2
$250,000
1
308000
3
$10,000
1
205333
6
$5,000
3
102667
24
$1,000
11
25667
1035
$500
526
595
6938
$250
3521
89
15412
$100
7895
40
30872
$50
15768
20
49284
$30
25291
13
73920
$20
not available*
8
*Real time data on prizes below $25 are not available.