$10,000

Top Prize

$2

Ticket

1:4.01

overall odds

51.54%

sold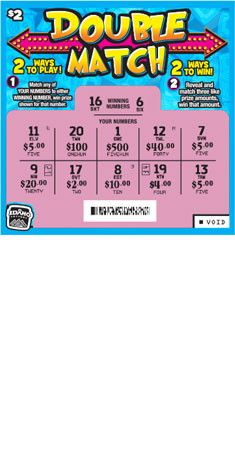 Double your fun with every play of Double Match, the $2 Scratch Game with two ways to play and two ways to win! Play this way or that way, as Double Match combines two of the Idaho Lottery's most popular play styles in a single game!
Start by scratching the WINNING NUMBERS. Match either of those WINNING NUMBERS to YOUR NUMBERS. If you do, you win the prize shown for that number. But wait, your game isn't over yet. If you reveal and match three like prize amounts, you win that prize amount.
Check your tickets carefully for winners. This game could surprise you with two ways to play and two ways to win, all the way up to the game's top prize of $10,000!
Number of Prizes
Prize Amount
Remaining Prizes
Odds
2
$10,000
2
246400
4
$500
2
123200
124
$100
67
3974
664
$40
341
742
6170
$20
not available*
80
12304
$10
not available*
40
14776
$5
not available*
33
29564
$4
not available*
17
59144
$2
not available*
8
*Real time data on prizes below $25 are not available.