$50,000

Top Prize

$5

Ticket

1:3.46

overall odds

66.94%

sold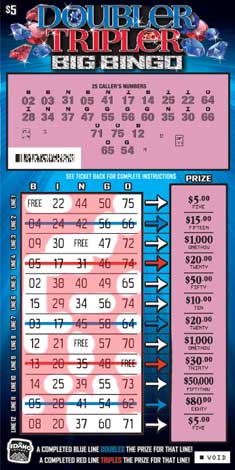 If Big Bingo wasn't enough, how about Doubler Big Bingo? Still not enough? How about Tripler Big Bingo? No, not enough yet? How about Doubler Tripler Big Bingo with twelve ways to win and a top prize of $50,000!
Doubler Tripler Big Bingo is a razzle dazzle game adorned with diamonds and rubies, plus twelve lines of bingo to play. While there isn't a traditional bingo card for this game, Double Tripler Big Bingo does have a dozen lines that you can win on. In the game, players scratch the 25 Caller's Number under the blue diamonds and brilliant red rubies. Players then match each number to those in any of the twelve lines. Free spaces are still free spaces. Players win the prize shown for each fully completed line they uncover. If you complete an entire BLUE LINE of play, you win double the prize for that line. If you complete an entire RED LINE of play, you win three times the prize for that line.
Why, this is the sparkliest big bingo game around, plus you could win all the way up to the game's top prize of $50,000. Give Doubler Tripler Big Bingo a try and you might be Idaho's next big winner.
Number of Prizes
Prize Amount
Remaining Prizes
Odds
2
$50,000
1
246750
3
$1,000
2
164500
418
$100
147
1181
2510
$50
901
197
6397
$30
2367
77
11515
$20
not available*
43
14805
$15
not available*
33
46033
$10
not available*
11
60919
$5
not available*
8
*Real time data on prizes below $25 are not available.
All tickets, transactions, and winners are subject to Lottery Rules and State Law. Prizes must be claimed within 180 days after the official end of game. Persons altering tickets are subject to prosecution. You must be at least 18 years old to purchase a ticket.