$250,000

Top Prize

$25

Ticket

3.24

overall odds

84.61%

sold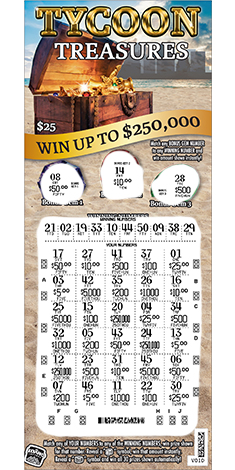 Washed up on shore is a treasure chest filled to the brim with treasure and riches. Amethysts, emeralds, and rubies plus gold coins and extra loot. Tycoon Treasures is a $25 Scratch Game with brilliance in color and cash up to $250,000.
In the game, players try to match any of YOUR NUMBERS hidden under thirty gold doubloons to any of the WINNING NUMBERS under the array of priceless gems. When you match, you win the prize shown for that number. If you reveal a treasure chest symbol, you win that prize amount instantly. If you reveal a stack of coins symbol, you win all 30 prizes instantly!
Plus, if you match any of the Bonus Gem numbers to any of the WINNING NUMBERS, you win that amount shown, instantly!
It's the best treasure for a tycoon the tide ever washed up on shore. Tycoon Treasures, loaded with $200 prizes and an overall top prize of $250,000!
Number of Prizes
Prize Amount
Remaining Prizes
Odds
2
$250,000
1
169400
8
$5,000
2
42350
17
$1,000
2
19929
848
$500
160
400
11424
$200
2034
30
6671
$100
1197
51
4159
$50
754
81
81312
$25
14888
4
* Real time data on prizes below $25 are not available.