$1,000,000

Top Prize

$10

Ticket

1:37

overall odds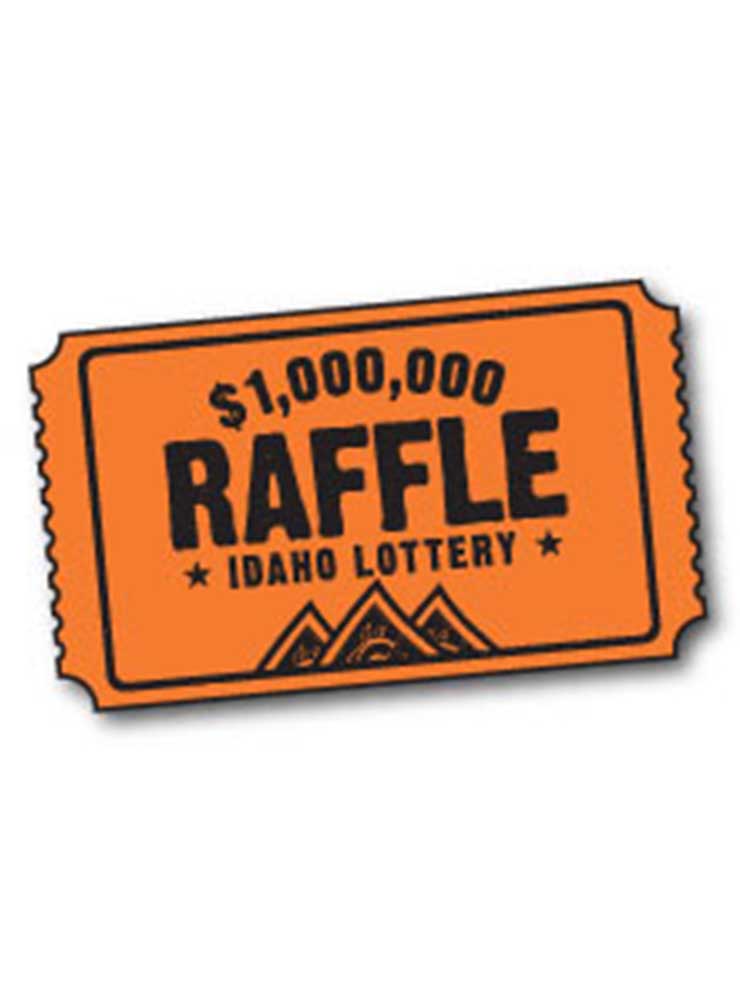 $1,000,000 Winning Number
220063
Click on the "Check Numbers" tab above to check your tickets!
All about the $1,000,000 Raffle:

Best odds ever at winning $1,000,000.

Only 250,000 tickets to be sold and when they're gone, they're gone!

$10 per ticket…..sold only in Idaho!

The 2018 Raffle offers the most prizes ever awarded, 7,353!

---
For Tickets Sold Between Oct 21-30
October 21 - 000486
October 22 - 002668
October 23 - 005689
October 24 - 009269
October 25 - 012049
October 26 - 015961
October 27 - 016819
October 28 - 019598
October 29 - 021412
October 30 - 025345
---
Number of Prizes
Prize Amount
Odds
1
$1,000,000
1:250000
2
$10,000
1:125000
550
$200
1:455
6800
$25
1:37
Odds of winning (stated odds are based on all 250,000 tickets being sold)
Idaho $1,000,000 Raffle tickets sales begin at 4:00 a.m. MT, October 21, 2018 and will remain on sale until December 31, 2018 at 11:59 p.m. MT, or until the 250,000th ticket is sold, at the Lottery's discretion. Only 250,000 tickets will be sold. Price is $10 per ticket.
Winner announcement will be on January 3, 2019 at 9:59 p.m. MT, or within four (4) BUSINESS days after the sale of the last ticket (250000) if after December 31, 2018. Tickets will be made payable immediately after the Winner Announcement. Players can check their tickets at www.idaholottery.com, at any Idaho Lottery retailer, on the Lottery Check-a-Ticket app on their smartphone, or by calling our winning numbers line at 208-334-4656.
Raffle Promotions:
$1,000 Daily Drawing- October 21-October 30 we are giving away ten (10) prizes of $1,000; one each day for the first ten days the Idaho $1,000,000 Raffle is on sale. One winning Raffle ticket number will be selected randomly each day from all tickets purchased the prior day. The daily winning Raffle ticket numbers will be posted on the Idaho Lottery's website by 3:00 pm MT the following business day. In order to collect your prize, you must redeem at the Lottery headquarters either in person, by mail, or by fax. Winner may retain their winning ticket for eligibility in the final draw for $1,000,000.
$1,000 Giveaway Every 25,000th Ticket- The purchase of the Raffle ticket with one of these numbers: 025000; 050000; 075000; 100000; 125000; 150000; 175000 200000; 225000; and 250000 will produce a voucher that you can redeem for a prize of $1,000. Promotion runs from October 21 until Raffle ticket number 250000 is sold. You must keep your voucher for presentation to Lottery Officials to collect your prize. Prizes will not be awarded without the voucher and a copy of the appropriate number Raffle ticket. In order to collect your prize, you must redeem at the Lottery headquarters either in person, by mail, or by fax.
Claim your prize:
Idaho Lottery
$1,000,000 and $10,000 prize winners & $1,000 promotional winners –. Winners must claim their prize at Idaho Lottery headquarters either in person, by mail, or by fax.
1199 Shoreline Ln Suite 100
P.O. Box 6537
Boise, ID 83702
Fax (208) 334-2391
$200 and $25 prize winners – visit any Idaho Lottery retailer after the draw or visit Idaho Lottery headquarters.
Prizes must be claimed within 180 days of the drawing date.
Top prize(s) winners will be required to complete a Winner Claim Form, Claim Form Addendum, present a valid government-issued photo identification (i.e., valid driver's license, passport, ID card), and any other documentation requested by the Idaho Lottery.
IMPORTANT NOTE: Raffle ticket numbers must match identically, in exact order, to the number drawn by the Idaho Lottery. Sign your Idaho $1,000,000 Raffle ticket immediately upon purchase and keep it safe until the drawing. You must be 18 years of age or older to purchase or redeem an Idaho $1,000,000 Raffle ticket. All prizes will be a single lump sum payment representing the prize amount and are subject to federal and state taxes and any offset required by Idaho Law.
Details:
There will be a total of 250,000 Raffle tickets available for sale that can be purchased anywhere Idaho Lottery draw games are sold.
Idaho $1,000,000 Raffle tickets will have a unique number from 000001 to 250000 printed from the Lottery terminal and will be issued in sequential order throughout the state. As a result, if a player buys more than one ticket at a time, the tickets may not be in consecutive sequential order.
Players cannot pick their own numbers.
No additional tickets will be available for purchase when all 250,000 tickets are sold.
Idaho $1,000,000 Raffle tickets cannot be canceled or voided.
Any Idaho $1,000,000 Raffle ticket created in error at the retailer location is the responsibility of the retailer.
Any tickets that are verified by Lottery Security as not sellable due to a system or technical error shall be removed from the drawing for winner selection.
A record of all ticket numbers removed from the draw will be kept by Lottery Security.
All Idaho $1,000,000 Raffle tickets will be sold by authorized Idaho Lottery retailers only.
Each unique Idaho $1,000,000 Raffle ticket will only win one prize in the $1,000,000 drawing.
To win, you must match your number in exact order to the winning number drawn.





Lisa Clough

POST FALLS | 2017 | $1,000,000
Congratulations to Lisa Clough who has long been a regular Idaho Lottery player and member of the Idaho Lottery's VIP Club. In early December, she received an e-mail from the Idaho Lottery inviting her to attend a special promotional night hosted by the Idaho Lottery and 103.9 BOB FM (KBBD – a Radio Spokane, radio station) at the Super 1 Foods store in Post Falls. Her decision to attend and purchase Raffle tickets was worth $1,000,000.
***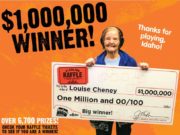 Louise Cheney

MALAD | 2016 | $1,000,000
Congratulations to Louise Cheney for winning the 2016 Idaho $1,000,000 Raffle. Her winning ticket, number 065236, was bought at KJ's in Malad.
***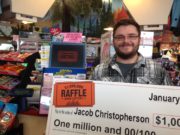 Jacob Christopherson

MERIDIAN | 2015 | $1,000,000
Jacob Christopherson was still in disbelief when he showed up at the Lottery office to claim his $1,000,000 prize. "I had been buying tickets around the 25000th tickets, trying to win one of the $1,000 prizes. I stopped in the Maverik by my mom's house and just bought one to see what the current ticket number was," described Christopherson on the purchase of his ticket and referring to the Idaho Lottery's instant win feature that occurred once each 25000th ticket purchased. "It was just a random purchase." That random purchased turned out to be the top prize winner in the Idaho $1,000,000 Raffle game, making Christopherson the Idaho Lottery's newest millionaire and the ninth in this game's history. Jacob plans to invest his winnings wisely and use some of it to pursue his passion of playing golf.
***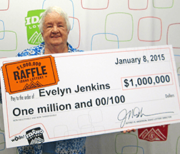 Evelyn Jenkins

BOISE | 2014 | $1,000,000
Evelyn Jenkins ended 2014 by watching the live announcement of the Idaho Lottery's $1,000,000 Raffle from the Idaho Potato Drop on New Year's Eve on television. She's starting out 2015 as the Idaho Lottery's 51st millionaire after matching the Raffle winning number to one of the numbers on her five tickets and then claiming her $1,000,000 at Idaho Lottery offices on Thursday morning. read entire story
***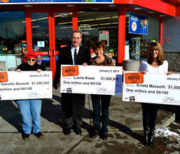 Luella Rowe

CALDWELL | 2013 | $1,000,000
"I turned on the TV to watch the announcement on Channel 7 and was holding my tickets in my hands when they announced the winning number," described Luella Rowe, one of the three winners. "I didn't even look down. I knew I was holding the winner. I couldn't believe it. Still not sure I do believe it." read entire story
***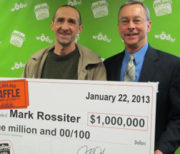 Mark Rossiter

STAR | 2012 | $1,000,000
"We were a little slow in taking down our decorations this year," explained Rossiter when he claimed the winning ticket at Idaho Lottery offices. "I pulled the ticket off the tree and went to check the number on the Internet just to be sure it wasn't a winner before we threw it away. When I did, holy moly, we had the $1,000,000 ticket." read entire story
***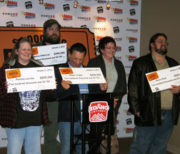 Wal-Mart Winners

ONTARIO | 2011 | $1,000,000
For six months, a group of co-workers from the Wal-Mart store in Ontario, Oregon pooled their resources to save up money to play the Idaho Lottery's annual Idaho $1,000,000 Raffle. The group of five friends, who have worked together for at least five years, started saving $10 a paycheck in late June 2011. Once the Idaho $1,000,000 Raffle began, the group's leader Aaron O'Neil began buying a couple of tickets each day the Raffle was offered for sale. the persistence paid off on Tuesday, January 3, 2012 when the group claimed the Raffle's top prize of $1,000,000 at Lottery headquarters in Boise. read entire story
***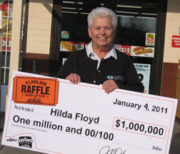 Hilda Floyd

NAMPA | 2010 | $1,000,000
Even after calling her accountant to work out the details of her win, Floyd remained calm and not too excited to claim her big prize. That is until she started describing her plans for her windfall. "I have it all planned out. I am going to take care of a few things for me, then I'm going to take care of my family and my church," explained Floyd, who becomes the Idaho Lottery's 25th millionaire. "Giving it away excites me more than anything else." read entire story
***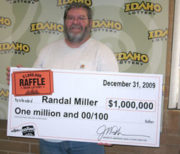 Randal Miller

GREENLEAF | 2009 | $1,000,000
"I had a couple of tickets in the car that I went out to get and check," said Miller sheepishly, who admitted he had signed the tickets after purchasing them. "I told them I had one ticket in the 59,000's and when I read the number, my sister Elizabeth told me it was the winner!" read entire story
***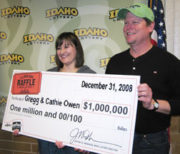 Gregg & Katie Owen

BUHL | 2008 | $1,000,000
Gregg Owen left for the Ridley's Food store in Buhl the day before Thanksgiving with a grocery list from his wife Cathie that included all the trimmings for a holiday dinner, plus what turned out to be two very important items. "At the bottom of the list it said 2 Raffle tickets," said Owen. "She gave me the $20 to get two tickets, so I stopped and picked them up. It was the best $20 investment we've made." read entire story
***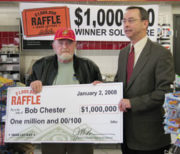 Bob Chester

BOISE | 2007 | $1,000,000
Veterans Day will have a new meaning for Bob Chester, a retired United States Marine, who bought his $1,000,000 winning raffle ticket very early in the morning on Veterans Day on November 11, 2007 in the 11th minute of sales for the Idaho $1,000,000 Raffle. Chester sent a Happy New Year's Day card to his family members that said that had one million reasons to watch the news after he learned he was the winner. read entire story