$1,000

a DAY for LIFE

$2

Ticket

1:7.8

overall odds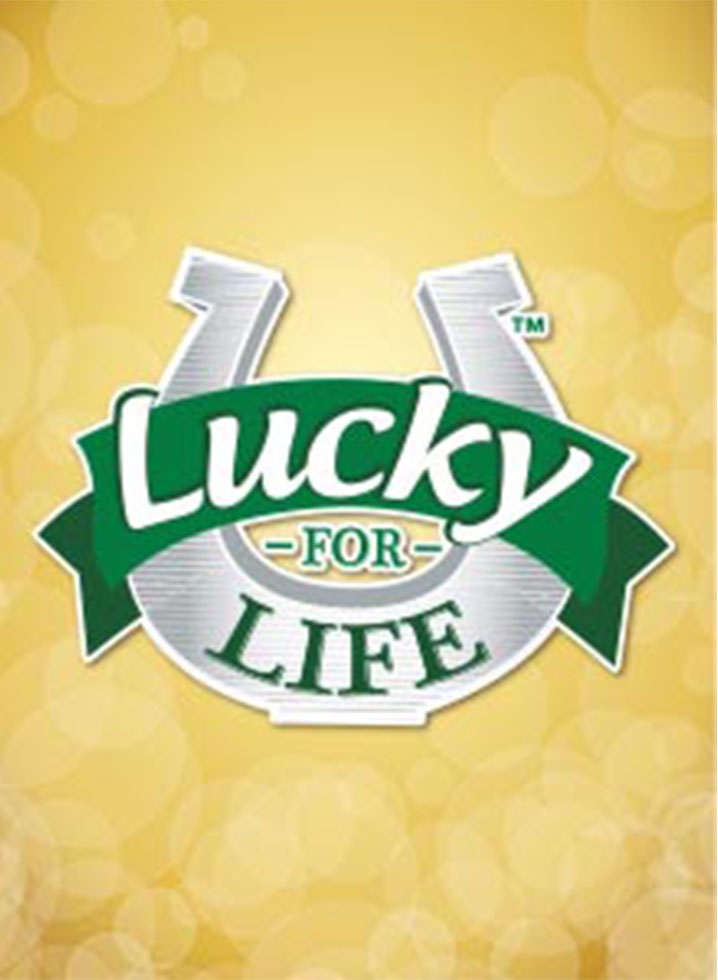 Luck that lasts a lifetime!
Draw Days: Monday & Thursday
Luck is what you make of it. You could have a lucky penny, a four leaf clover, or a lucky horseshoe. But imagine being lucky for your entire life.
The jackpot prize in Lucky for Life is $1,000 a DAY, every day, for the rest of your life!
How to Play
1. Each play costs $2.
2. For each game, pick five numbers (1 to 48) in the top "pick 5" area and one Lucky Ball number (1 to 18) in the bottom "Pick 1" area. Your Lucky Ball number can be the same as one of your first five numbers.
3. Quick Pick: If you want the computer to randomly select the numbers, ask the clerk for a "Quick Pick", or mark the "Quick Pick" box on the playslip. "Quick Pick" can be marked for either the white "Pick 5" or the "Lucky Ball" box, or both.
4. If you make a mistake, mark the VOID box for that game.
5. Before submitting your playslip, make sure the numbers you have chosen are the ones you want. Lucky for Life tickets cannot be canceled after they are processed. Responsibility for the numbers selected rests with the player, not the retailer or the Lottery.
6. Give your completed Lucky for Life playslip to your Lottery retailer with money to buy your ticket.
7. Drawings are on Monday and Thursday nights at 8:35 p.m. MT.
8. Multi-Draw: If you want to play the same numbers for up to 10 consecutive drawings, mark the appropriate number of drawings in the Multi-Draw box.
9. MyPlayslip app: Download the myPlayslip app and fill out your playslips via the website or on your mobile device



The overall odds of winning a prize in this game are 1:7.8


To Claim Your Prize
All prizes must be claimed within 180 days from the draw date. The ticket, not the playslip, shall be the only valid proof of the selections made and the only valid instrument for claiming a prize.
Prizes $599 or less can be claimed at any Idaho Lottery Retailer. Sign your ticket prior to claiming your prize. If you win $600 or more, claim your prize at Idaho Lottery Headquarters, 1199 Shoreline Ln., Ste 100, Boise, ID or by mail by sending the ticket and required information to Idaho Lottery, P.O. Box 8687, Boise, ID 83707.
To collect a prize of $600 or more, you must present government issued identification along with the ticket and a completed Idaho Lottery Claim form and Addendum.
Prize Amount
Match
Odds
$1,000 a day, FOR LIFE
1:30,821,472
$25,000 a year, FOR LIFE
1:1,813,028
$5,000
1:143,356
$200
1:8,433
$150
1:3,413
$20
1:201
$25
1:250
$3
1:15
$6
1:50
$4
1:32
* In cases of multiple prize winners, prize amounts may be split.
‡ 20 year minimum. Certain "for life" prize limitations may apply, and cash option may be available.
Rules and Regulations
All tickets, transactions and winners are subject to Lottery Rules and state law. Tickets shall not be sold to persons under 18 years of age. The ticket, not the playslip, is the bearer instrument and the only proof of selections and purchase. Claims arising from lottery tickets sold by the Idaho Lottery must be pursued consistent with the Idaho Lottery rules as the sole and exclusive remedy of claimant. By purchasing a ticket, you agree to be bound by all rules and regulations of the Idaho Lottery. By purchasing a ticket and submitting a prize claim, each potential winner grants the Idaho Lottery the right to use the winner's name, city, county, state of residence, prize amount, and photograph or likeness to publicize his or her winnings and promote games or goodwill for the Idaho Lottery, without further consideration.
Complete Lucky for Life game rules may be obtained from the Idaho Lottery upon request. info@idaholottery.com
There were 1,828 Lucky for Life Idaho winners for the last draw.
| Date | Winning Numbers | Multiplier | Jackpot |
| --- | --- | --- | --- |
| | | | $365,000 |