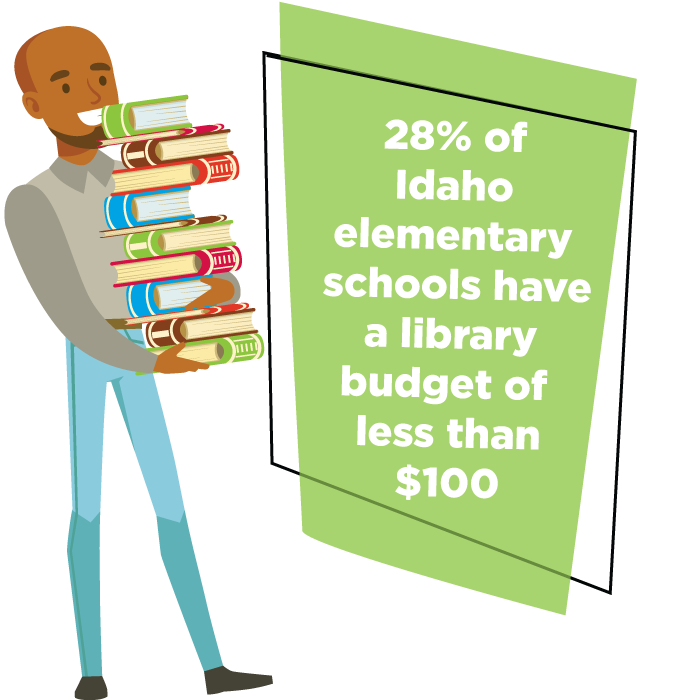 In the spring of 2019, the Idaho Commission for Libraries came to the Idaho Lottery with a troubling statistic: 29 percent of Idaho elementary school libraries have an annual budget of less than $100! In reality, it would take at least $8,000 per year to build the collection students need to succeed.
Bucks For Books was launched in September 2019 with the goal to bridge the gap in elementary school library funding. For every Idaho Lottery VIP Club member that donated 200 points, we donated the equivalent of one new library book. At the end of the month, we had raised $30,000! We also partnered with Barnes and Noble in Boise, raising another $7,000 worth of books.
In November, the Idaho Lottery and the Idaho Commission for Libraries worked together to select the first 12 recipients of the Bucks For Books award. The recipients - listed below - all received grants of between $1,000 and $3,000. The school librarian was responsible for using the funds to purchase the books their school needed. They will be reporting back to the Idaho Commission for Libraries and the Idaho Lottery on how the funds were used and what impact they had this spring.
Naples Elementary School - Naples, Idaho
Bryan Elementary School - Coeur d'Alene, Idaho
Riggins Elementary School - Riggins, Idaho
Payette Primary School - Payette, Idaho
Van Buren Elementary School - Caldwell, Idaho
Central Elementary School - Nampa, Idaho
Hillcrest Elementary School - Boise, Idaho
West Elementary School - Mountain Home, Idaho
Shoshone School District - Shoshone, Idaho
Harrison Elementary School - Twin Falls, Idaho
Tiebreaker Elementary School - Idaho Falls, Idaho
Malad Elementary School - Malad, Idaho
Following the success of the program, Bucks For Books will be expanding this coming September.