$5,000

Top Prize

$5

Ticket

1:3.86

overall odds

99.9%

sold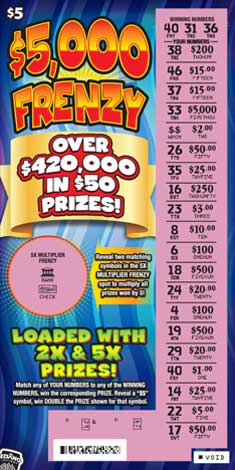 It's pandemonium out there and $5,000 Frenzy is just the ticket to play this summer! The game comes with over $420,000 in $50 prizes (that's a lot) and also a lot of top prizes of $5,000! Plus you can win up to 20 times on every single ticket! It's a $5,000 Frenzy!
When you play the game, if you match any of YOUR NUMBERS to any of the WINNING NUMBERS, you win the corresponding PRIZE. If you reveal a "DOUBLE DOLLAR SIGN" symbol, you win DOUBLE the PRIZE shown for that symbol. If you reveal two matching symbols in the 5XMULTIPLIER FRENZY spot to multiply all prizes won by 5! And the game is loaded up with 2x and 5x multipliers!
Don't wait for the frenzy at the store to get your $5,000 Frenzy tickets. Get them the next time you visit your favorite Idaho Lottery retailer!
Number of Prizes
Prize Amount
Remaining Prizes
Odds
16
$5,000
1
30703
12
$500
0
40938
569
$100
5
863
8733
$50
117
56
14724
$20
not available*
33
13100
$15
not available*
38
34414
$10
not available*
14
55676
$5
not available*
9
*Real time data on prizes below $25 are not available.
All tickets, transactions, and winners are subject to Lottery Rules and State Law. Prizes must be claimed within 180 days after the official end of game. Persons altering tickets are subject to prosecution. You must be at least 18 years old to purchase a ticket.