$100,000

Top Prize

$10

Ticket

1:3.55

overall odds

98.02%

sold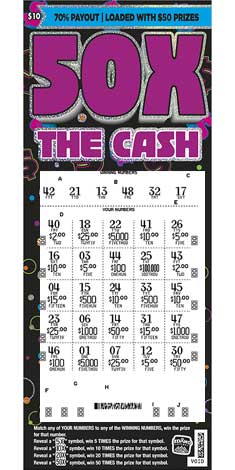 This puts the razzle together with the dazzle and will light up the summer nights more than an entire pack of sparklers! You could win 50X the prize from this "Xtreme" game. The neon and the glitter bring the bling and the games deliver with great cash payouts, up to $100,000. This game will take playing to an "Xplosive" level of winning.
The $10, purple neon version of the Multiplier Family plays just like the $1 and $5 games – only with more prizes, more payout, and more chances to win. Players try to match any of their six YOUR NUMBERS to any of the twenty-five chances under the glittering dollar signs. If the number matches, you win the prize shown for that number. But the fun is just getting started. If you uncover a 5X symbol, you win 5 times the prize. If you uncover a 10X symbol, you win 10 times the prize. If you reveal a 20X symbol, you win 20 times the prize. And, should you uncover a 50X symbol, you win 50 times the prize. This game is packed with prizes, comes with a whopping 70% prize payout, and is loaded with $50 wins. And the best part, the game features two top prizes of $100,000!
This game brings the bling to the "Xtreme", up to 50X the prizes, 50X the fun. Try this game and the others from Multiplier Family of games this summer. It's your ticket to fun, excitement and winning!
Number of Prizes
Prize Amount
Remaining Prizes
Odds
$100,000
0
186230
$5,000
0
93115
$1,000
0
23279
$500
2
2467
$100
98
77
$50
315
31
$25
638
18
$15
not available*
28
$10
not available*
7
*Real time data on prizes below $25 are not available.
All tickets, transactions, and winners are subject to Lottery Rules and State Law. Prizes must be claimed within 180 days after the official end of game. Persons altering tickets are subject to prosecution. You must be at least 18 years old to purchase a ticket.