$50,000

Top Prize

$5

Ticket

1:3.46

overall odds

99.58%

sold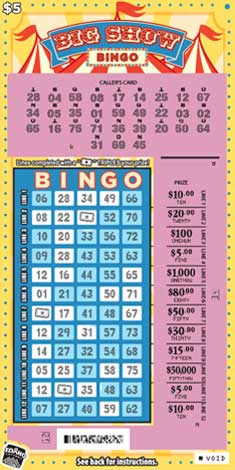 Welcome to the big top, prime time, the be all and end all, the biggest, brightest, best, most dazzling and amazing bingo game from the Idaho Lottery. It's time for the big show, Big Show Bingo, under the spotlight of the big top with a chance to win up to $50,000!
When playing the game, players play each line separately. Each line has its own prize. Players scratch off the CALLER'S CARD area. Then player scratch the corresponding numbers of the bingo card area. If players match five numbers in a complete horizontal line, you win the prize shown for that line. Lines that are completed with a "Star block symbol" will triple your prize!
This game has all the fun and excitement of a regular bingo game, plus a real circus feel, just without the calliope music. So grab the cotton candy, the bag of peanuts, the buttered popcorn, and settle in under the big top for Big Show Bingo and your chance to win a circus act prize up to $50,000!
Number of Prizes
Prize Amount
Remaining Prizes
Odds
2
$50,000
1
246488
3
$1,000
0
164325
412
$100
5
1197
2460
$50
50
200
6404
$30
233
77
11503
$20
not available*
43
14789
$15
not available*
33
46030
$10
not available*
11
60762
$5
not available*
8
*Real time data on prizes below $25 are not available.
All tickets, transactions, and winners are subject to Lottery Rules and State Law. Prizes must be claimed within 180 days after the official end of game. Persons altering tickets are subject to prosecution. You must be at least 18 years old to purchase a ticket.