$100,000

Top Prize

$10

Ticket

1:3.91

overall odds

64.94%

sold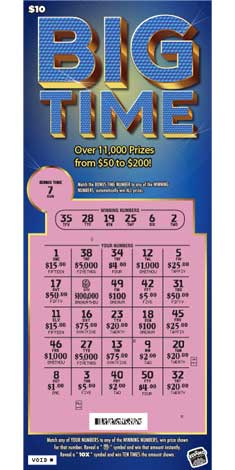 What would you say to winning $100,000, or to a game that features 11,000 prizes between $50 and $200? How about, welcome to the Big Time! It's the biggest, bluest winning game on the market. And Big Time has a prize that measures up to its name: $100,000!
In the game Big Time, players match WINNING NUMBERS hidden under the six golden dollar signs to any of the twenty-five YOUR NUMBERS hidden under the stars. When you match a number, you win the prize shown for that number. If you reveal a stack of money symbol, you win that prize amount instantly. If you reveal a 10x symbol, you win ten times the amount shown. And don't forget the Bonus Time number. Match that number to any of the WINNING NUMBERS and win all the prizes on the ticket automatically!
Welcome to the Big Time, the game where winning is extraordinary, all the way up to $100,000!
Number of Prizes
Prize Amount
Remaining Prizes
Odds
2
$100,000
1
200558
3
$5,000
1
133705
5
$1,000
3
80223
1490
$200
604
269
4529
$100
1778
89
5462
$50
2141
73
14618
$25
5885
27
18173
$20
not available*
22
58370
$15
not available*
7
*Real time data on prizes below $25 are not available.
All tickets, transactions, and winners are subject to Lottery Rules and State Law. Prizes must be claimed within 180 days after the official end of game. Persons altering tickets are subject to prosecution. You must be at least 18 years old to purchase a ticket.