$30,000

Top Prize

$3

Ticket

1:3.53

overall odds

89.44%

sold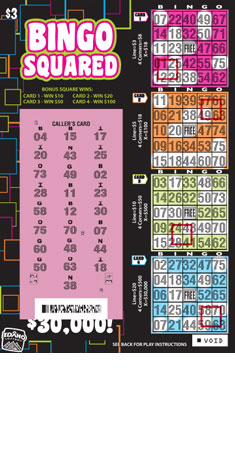 The bright, neon colors of Bingo Squared are reminiscent of the classic 1980s video games, but do not be mistaken, this game provides a lot of play, a lot of fun, for just $3. Bingo Squared features four different, individual game cards, plus a redline BINGO SQUARE in each game to instantly win up to $100. The game even features two prizes of $30,000!
This game is straight forward and plays like a traditional bingo game. Players scratch the CALLER'S CARD area under the neon squares to reveal twenty-five BINGO numbers. Then, you scratch the corresponding numbers on each of the four play CARDS, every time you match a number. If on any one of the CARDS 1 through 4 you match all numbers in one complete horizontal, vertical, or diagonal line, or four corners, or an "X", you win the prize in the prize legend corresponding to that numbered CARD. If on any one of the CARDS 1-4 you match all numbers in the BINGO SQUARE, you win the prize from the BINGO SQUARE prize legend corresponding to that card found under the game headline.
Depending on the card, you could win up to $18, $100, $500, even $30,000! That's a lot of bingo for the buck. Play Bingo Squared and you could walk away with a big winning prize!
Number of Prizes
Prize Amount
Remaining Prizes
Odds
2
$30,000
0
300800
8
$500
1
75200
40
$106
4
15040
80
$100
14
7520
299
$50
61
2012
600
$40
70
1003
1019
$36
144
590
3006
$20
not available*
200
12032
$18
not available*
50
6016
$15
not available*
100
9026
$10
not available*
67
24063
$8
not available*
25
24069
$5
not available*
25
90241
$3
not available*
7
*Real time data on prizes below $25 are not available.
All tickets, transactions, and winners are subject to Lottery Rules and State Law. Prizes must be claimed within 180 days after the official end of game. Persons altering tickets are subject to prosecution. You must be at least 18 years old to purchase a ticket.