$50,000

Top Prize

$5

Ticket

1:3.46

overall odds

82.08%

sold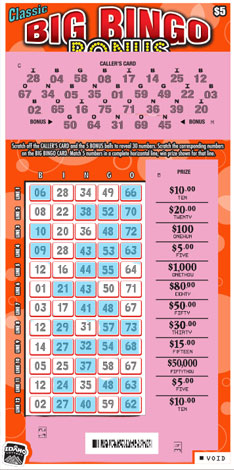 Step right up, it's the big orange bingo card, with lines of play, twenty-five numbers to match, and five bonus numbers to help you win up to $50,000! It's a bingo lover's dream when you play Classic Big Bingo Bonus.
To play the game, players scratch the CALLER'S CARD of twenty-five numbers, plus the five BONUS numbers. Then you match those numbers to each occurrence in the BIG BINGO CARD. If you match all five numbers in one, complete, horizontal line, you win the prize for that line, all the way up to the top prize of $50,000. Each line is played separately and there are no prizes for vertical or diagonal lines.
It's Classic Big Bingo Bonus. With this much fun, and a top prize of $50,000, the only thing missing is playing it under a big tent! Try Classic Big Bingo Bonus today and you might be the next big winner.
Number of Prizes
Prize Amount
Remaining Prizes
Odds
2
$50,000
0
261675
3
$1,000
1
174450
447
$100
52
1171
2621
$50
374
200
6978
$30
1007
75
12205
$20
not available*
43
15707
$15
not available*
33
48862
$10
not available*
11
64521
$5
not available*
8
*Real time data on prizes below $25 are not available.
All tickets, transactions, and winners are subject to Lottery Rules and State Law. Prizes must be claimed within 180 days after the official end of game. Persons altering tickets are subject to prosecution. You must be at least 18 years old to purchase a ticket.