$10,000

Top Prize

$2

Ticket

1:3.55

overall odds

86.97%

sold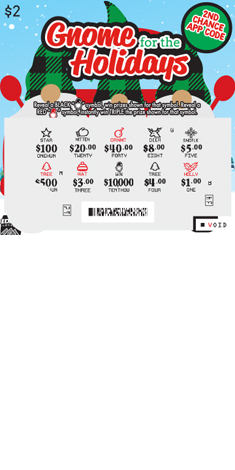 No matter how far away you roam, no matter what retail store you visit in Idaho, there's just no place like Gnome for the Holidays and your chance to win up to $10,000!  The game features three erstwhile Gnomes with plaid flannel caps, driving their car in a snowstorm with ten presents attached to the grill.  Those are your ten chances to win the game's top prize of $10,000.
To play the game, players need to scratch all ten presents.  If you reveal a black and white "Gnome" symbol, you win the prize shown for that Gnome.  If you reveal a red "Gnome" symbol, you win triple the prize shown.  You can win up to ten times on every single ticket! That's every single present attached to the grill of the Gnome's car.
This holiday season, you just can't beat Gnome sweet Gnome, so lay Gnome for the Holidays and you could be our next big winner!
HOLIDAY BONUS 2ND CHANCE $1,000 PRIZES
There are two things synonymous with the first snowfall of winter: building a snowman and a good ol' fashioned snowball fight.  But who would have ever thought that a snowball fight could win your Lottery players an extra $1,000 this winter? That's enough to make any holiday merry and bright.
Every non-winning, 2020 Idaho Lottery holiday-themed Scratch ticket has a second chance app code hidden in the play area.  The code can only be used through the Idaho Lottery's VIP Club web portals.  Players enter the code for their chance to win one of five, $1,000 second chance prizes. This promotion begins on October 5, 2020 and runs until January 31, 2021.
Number of Prizes
Prize Amount
Remaining Prizes
Odds
2
$10,000
0
246200
4
$500
1
123100
52
$100
8
9469
1820
$40
308
271
4924
$20
not available*
100
7386
$10
not available*
67
9848
$5
not available*
50
40623
$4
not available*
12
73860
$2
not available*
7
*Real time data on prizes below $25 are not available.
All tickets, transactions, and winners are subject to Lottery Rules and State Law. Prizes must be claimed within 180 days after the official end of game. Persons altering tickets are subject to prosecution. You must be at least 18 years old to purchase a ticket.