$50,000

Top Prize

$5

Ticket

1:3.44

overall odds

99.44%

sold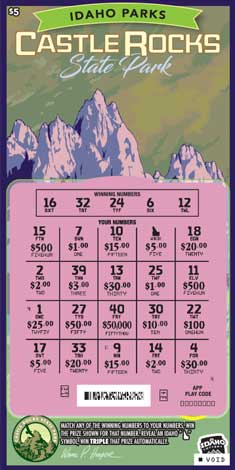 It's one of the most scenic series of $5 Scratch tickets, the Idaho Parks series, ever offered by the Idaho Lottery. Designed by renowned Idaho-artist Ward Hooper and offered in coordination with the Idaho Department of Parks & Recreation, this game celebrates Idaho's scenic treasures, our State parks. As sunshine abounds, Idahoans will once again have the opportunity to celebrate our State's great outdoors and possibly win up to $50,000!
The nostalgic, vintage style of Hooper's designs yearn for a period of yesteryear and beckon the recollection of simpler times spent outdoors under starry nighttime skies. Whether it's waterskiing on Bear Lake, star gazing through the observatory at Bruneau Dunes, camping under the towering pines of Ponderosa, or sailing past the soaring mountain peaks on Lake Pend Oreille at Farragut – everyone has a favorite outdoor pastime at one of Idaho's magnificent State parks.
There are eleven, collector's edition scenes in the Idaho Parks game. Players match WINNING NUMBERS to YOUR NUMBERS and win the prize shown for that number. If you reveal an "Idaho" symbol, you win triple the prize instantly!
If the ticket is a non-winner, you still have a chance to win through a series of second chance opportunities. You can enter the 8-digit, alphanumeric App Code on the front of your non-winning Idaho Parks scratch ticket to play a game to reveal entries into the Ultimate Idaho Adventure prize, drawn at the end of the game. This package offers your choice of staying in a fully furnished, park accommodation and a personal interpretive program with an interpretive park ranger at one of the following State parks: Harriman State Park, Castle Rocks State Park, or Ponderosa State Park. In addition, the winner will receive $3,000 in cash. This prize will be awarded upon the official end of the Idaho Parks Scratch game.
But wait, there's more. There will be weekly drawings while the game remains on the market. Players who enter their non-winning tickets will be eligible to win a weekly $500 cash and adventure pack prize.
It's fun for the whole summer, and into the fall. Celebrate Idaho's great outdoors by playing Idaho Parks and the Idaho Parks Second-chance game app starting in July. And remember, when playing the Lottery, please play responsibly and when recreating this summer, please Recreate Responsibly Idaho.
Number of Prizes
Prize Amount
Remaining Prizes
Odds
2
$50,000
1
296550
60
$500
0
9885
411
$100
8
1443
9079
$50
188
65
2575
$30
61
230
13824
$20
not available*
43
13837
$15
not available*
43
39581
$10
not available*
15
92903
$5
not available*
6
*Real time data on prizes below $25 are not available.
All tickets, transactions, and winners are subject to Lottery Rules and State Law. Prizes must be claimed within 180 days after the official end of game. Persons altering tickets are subject to prosecution. You must be at least 18 years old to purchase a ticket.