$300,000

Top Prize

$30

Ticket

1:2.99

overall odds

96.88%

sold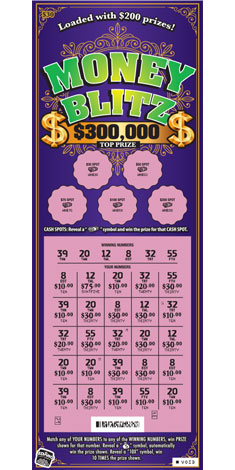 $300,000 is just the top prize in this game. Money Blitz brings the bling and the bucks, is loaded with $200 prizes, and offers thirty different ways to win on every ticket! The Money Blitz ticket has glitz-appeal with five golden instant cash spots of $30, $50, $75, $100, and $200 prizes and twenty-five dazzling dollar signs with prizes just waiting to be won.
To play the game, players match any of their six WINNING NUMBERS hidden under the gold dollar signs to any of YOUR NUMBERS waiting under the twenty-five green dollar signs. Make a match and win the prize shown for that match. If you reveal a "MONEY BAG" symbol, you win the prize shown automatically. If you reveal a "10X" symbol, you win ten times the prize shown, automatically! For the CASH SPOTS, if you reveal a "STACK OF MONEY" symbol, you win the prize for that CASH SPOT.
It's the big purple ticket with some serious green, gold and cash winnings. Play Money Blitz for your chance with hundreds, even the top prize of $300,000!
Number of Prizes
Prize Amount
Remaining Prizes
Odds
2
$300,000
1
183645
3
$25,000
0
122430
6
$2,500
0
61215
62
$1,000
11
5924
9138
$200
460
40
10966
$100
562
33.
14560
$75
742
25
41519
$50
2274
9
46746
$30
2602
8
*Real time data on prizes below $25 are not available.
All tickets, transactions, and winners are subject to Lottery Rules and State Law. Prizes must be claimed within 180 days after the official end of game. Persons altering tickets are subject to prosecution. You must be at least 18 years old to purchase a ticket.