$1,000

Top Prize

$1

Ticket

1:2.37

overall odds

97.12%

sold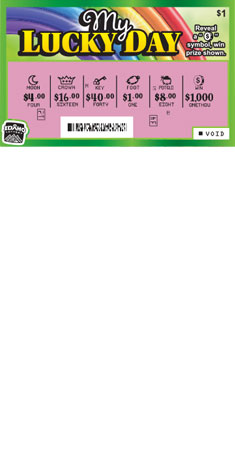 My Lucky Day from the Idaho Lottery is the embodiment of every known symbol associated with luck. Lady Bug? Got it. Leprechaun's hat? It's there. Four leaf clover? Sure enough. Gold star and a lucky seven? Yep, they're there, too. And a pot of gold at the end of the rainbow? What about a double rainbow? Well, the $1,000 top prize in the game will have to suffice, but this ticket has them as well.
The game is straight-forward to play. Scratch each of the lucky symbols – the lucky red 7, the Leprechaun's hat, the gold star, the rainbow, the four-leaf clover, and the Lady Bug. If you uncover a COIN symbol with the dollar sign on it, you win the prize shown.
My Lucky Day could be your lucky day, just follow the rainbow to your pot of gold and the top prize of $1,000.
Number of Prizes
Prize Amount
Remaining Prizes
Odds
2
$1,000
1
429900
40
$100
4
21495
570
$40
57
1508
4301
$16
not available*
200
5732
$8
not available*
150
10730
$4
not available*
80
56621
$2
not available*
15
285170
$1
not available*
3
*Real time data on prizes below $25 are not available.
All tickets, transactions, and winners are subject to Lottery Rules and State Law. Prizes must be claimed within 180 days after the official end of game. Persons altering tickets are subject to prosecution. You must be at least 18 years old to purchase a ticket.