$40,000

Top Prize

$5

Ticket

1:3.36

overall odds

95.5%

sold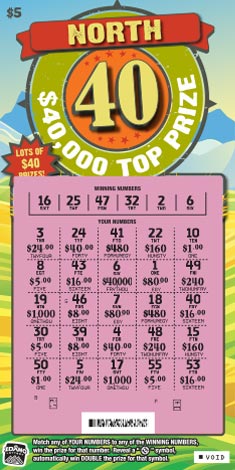 Someone once made the observation if you flattened Idaho out, all her mountains, that the sheer land mass would equal well-over 1/3 of the continental United States. There's a whole lot of land in Idaho and a lot more in the mountains. And while the phrase "North Forty" is in reference to a 40-acre parcel on a large farm or ranch, for Idaho Lottery Scratch Game lovers, the North 40 refers to whole lot of prizes and winnings, including a top prize of, well, $40,000!
To play the game, you don't need to hitch up the tractor or a plow to the back of your truck. You just have to match any of YOUR NUMBERS to the WINNING NUMBERS, and you win the prize shown for that number. If you reveal a "COMPASS" symbol pointing north (all the compass symbols point north) then you automatically win double the prize for that symbol.
The game is expansive as the State and the winnings as high as the sky. North 40 comes loaded with $40 prizes and offers more than $1.6 million payouts. Try North 40 today and you could walk away with a cool $40,000 and be our next big winner!
Number of Prizes
Prize Amount
Remaining Prizes
Odds
2
$40,000
0
245550
3
$1,000
0
163700
8
$480
1
61388
26
$240
1
18888
136
$160
9
3611
1319
$80
68
372
8687
$40
519
57
9816
$24
not available*
50
14730
$16
not available*
33
32764
$8
not available*
15
78576
$5
not available*
6
*Real time data on prizes below $25 are not available.
All tickets, transactions, and winners are subject to Lottery Rules and State Law. Prizes must be claimed within 180 days after the official end of game. Persons altering tickets are subject to prosecution. You must be at least 18 years old to purchase a ticket.