$200,000

Top Prize

$20

Ticket

1:3.65

overall odds

83.76%

sold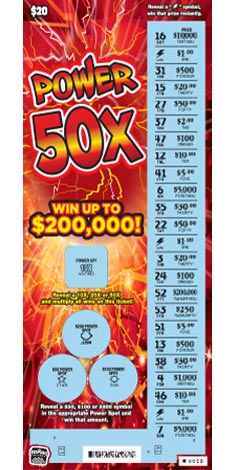 Power up, Idaho! This supercharged ticket is part of the Power Family of games, loaded with prizes and is easy to play.
In the game, scratch the dollar symbols. If you reveal a lightning bolt symbol, you win the prize shown for that symbol. Then, you scratch the Power Up box to multiply your winnings.
It's the motherlode of power, sparking you to win up to $200,000. This game has twenty-four chances to win prizes up lined up down the right side of the ticket like a line of circuit breakers. It is amped up with cash and comes with a $50 Power Spot, a $100 Power Spot, and $200 Power Spot. Plus, you can Power Up your winnings on all the prizes by 10x, 20x, or 50x the prizes! This game is so juiced it might just trigger a brown-out when you win the top prize of $200,000!
Flip the switch and turn on this game! It's Power 20x, where you can win up to $100,000! That's some serious voltage!
Number of Prizes
Prize Amount
Remaining Prizes
Odds
2
$200,000
0
155210
3
$10,000
0
103473
4
$5,000
0
77605
8
$1,000
0
38803
441
$500
77
704
3791
$250
623
82
8499
$100
1389
37
11288
$50
1813
28
21435
$30
3448
14
39508
$20
not available*
8
*Prizes are updated once daily. Prizes below $25 are not available.
All tickets, transactions, and winners are subject to Lottery Rules and State Law. Prizes must be claimed within 180 days after the official end of game. Persons altering tickets are subject to prosecution. You must be at least 18 years old to purchase a ticket.