$100,000

Top Prize

$10

Ticket

1:3.49

overall odds

99.43%

sold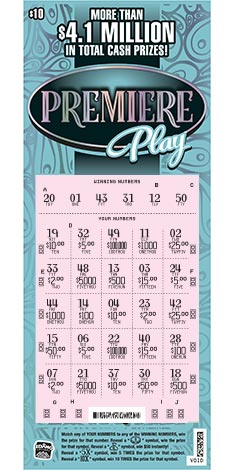 If winter had its own Scratch Game, Premiere Play would be it. The sleek, aquamarine ticket is the color of glacial ice reflecting on water, but make no mistake about it, this game is hot and loaded with over $4.1 million in cash and a top prize of $100,000.
To play this stunningly, mesmerizing ticket, players scratch the six silver stars to identify the WINNING NUMBERS. Then, you match those numbers to the numbers hidden under the silky, silvery dollar signs. When you make a match, you win the corresponding prize. If you reveal a COIN symbol, you win the prize for that symbol. If you reveal a "MONEY BAG" symbol, you win $50 instantly. If you reveal a 5X symbol, you win five times the prize for that symbol. And if you reveal a 10X symbol, you win 10 times the prize instantly!
Number of Prizes
Prize Amount
Remaining Prizes
Odds
2
$100,000
1
320650
7
$5,000
0
91614
28
$1,000
0
22904
140
$500
3
4581
8895
$100
121
72
23223
$50
439
28
34980
$25
759
18
23320
$15
not available*
28
93280
$10
not available*
7
*Real time data on prizes below $25 are not available.
All tickets, transactions, and winners are subject to Lottery Rules and State Law. Prizes must be claimed within 180 days after the official end of game. Persons altering tickets are subject to prosecution. You must be at least 18 years old to purchase a ticket.