$1,000

Top Prize

$1

Ticket

1:2.22

overall odds

69.32%

sold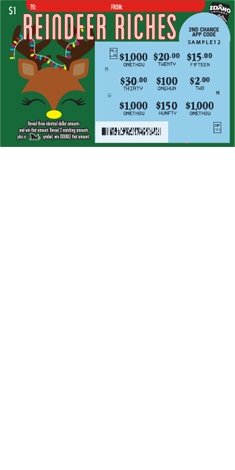 Sleigh bells could be among some of your favorite things this holiday season when you play Reindeer Riches with a chance to win up to $1,000. This festive game features some whimsical reindeer who are having some extra holiday fun; caught up in holiday lights, dressed out with holly and berries, and catching a few tufts of snow. Reindeer Riches gives you nine chances to win $1,000, plus features the Lottery's 2nd Chance Snowball fight game for any non-winning tickets.
To play Reindeer Riches, players scratch the nine golden sleighbells to reveal dollar amounts. If you reveal three like dollar amounts, you win that prize amount. If you uncover two like dollar amounts and a "Sleigh" symbol, you win double that prize amount.
This game will have you dashing through the snow on your way to the store to claim your winnings. Play Reindeer Riches for your chance to win up to $1,000 this holiday season!
HOLIDAY BONUS 2ND CHANCE $1,000 PRIZES
There are two things synonymous with the first snowfall of winter: building a snowman and a good ol' fashioned snowball fight. But who would have ever thought that a snowball fight could win your Lottery players an extra $1,000 this winter? That's enough to make any holiday merry and bright.
Every non-winning, 2020 Idaho Lottery holiday-themed Scratch ticket has a second chance app code hidden in the play area. The code can only be used through the Idaho Lottery's VIP Club web portals. Players enter the code for their chance to win one of five, $1,000 second chance prizes. This promotion begins on October 5, 2020 and runs until January 31, 2021.
Number of Prizes
Prize Amount
Remaining Prizes
Odds
3
$1,000
2
286300
5
$300
2
171780
15
$100
2
57260
1317
$30
395
652
2146
$20
not available*
400
2863
$10
not available*
300
5007
$5
not available*
172
66585
$2
not available*
13
308489
$1
not available*
3
*Real time data on prizes below $25 are not available.
All tickets, transactions, and winners are subject to Lottery Rules and State Law. Prizes must be claimed within 180 days after the official end of game. Persons altering tickets are subject to prosecution. You must be at least 18 years old to purchase a ticket.