$1,000

Top Prize

$1

Ticket

1:2.28

overall odds

83.03%

sold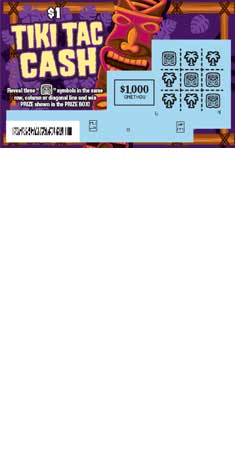 It's an all-new $1 game with great prize payouts and an even better second chance game with the best odds ever offered on $1 Scratch games that will dig up the winnings!
Tiki Tac Cash looks like it just arrived from the south Pacific! Tiki Tac Cash is a tic-tac-toe style game. Players match three "TIKI" symbols in the same row, column, or diagonal and they win the prize shown in the prize box, up to $1,000!
All non-winning, $1 Idaho Lottery Tiki Tac Cash Scratch tickets will be eligible for entry into a once a week drawing to win $100. Players may enter at vip.idaholottery.com or by tele-entry at 208-334-4656. And there's no end in sight for the $100 weekly winners.
Try Tiki Tac Cash for its new and improved chance to scare up thousands in prizes!
Number of Prizes
Prize Amount
Remaining Prizes
Odds
2
$1,000
1
420900
422
$30
116
1995
1387
$15
not available*
607
6339
$10
not available*
133
10534
$5
not available*
80
14733
$3
not available*
57
42039
$2
not available*
20
293252
$1
not available*
3
*Real time data on prizes below $25 are not available.
All tickets, transactions, and winners are subject to Lottery Rules and State Law. Prizes must be claimed within 180 days after the official end of game. Persons altering tickets are subject to prosecution. You must be at least 18 years old to purchase a ticket.