$77,000

Top Prize

$5

Ticket

1:3.47

overall odds

86.89%

sold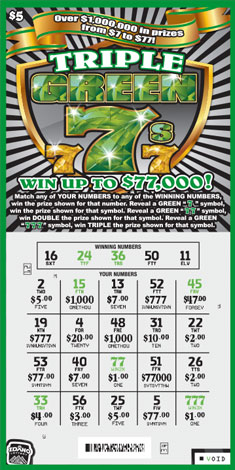 Green is definitely the color of money and there is no number luckier than seven. So, what do you get when you put the two together? One golden playing experience. Sparkling, glistening, and emerald encrusted 7s adorn every ticket on Triple Green 7s, the game that features a top prize of $77,000 and comes loaded with a million dollars in $7 to $77 winners!
To play Triple Green 7s, players match any of their WINNING NUMBERS hidden under the five gold stars to any of the twenty YOUR NUMBERS hidden under the golden dollar signs. If the numbers match, you win the prize for that number. If you reveal a green "7" symbol, you win the prize for that symbol. If you reveal a green "77" symbol, you win double the prize shown. If you reveal a green "777" symbol you win triple the prize shown!
There's so much green, you'll think you've won gold when you play Triple Green 7s and claim the top prize of $77,000!
Number of Prizes
Prize Amount
Remaining Prizes
Odds
2
$77,000
0
293400
3
$1,000
0
195600
10
$777
1
586800
3316
$77
344
177
9277
$47
1017
63
7816
$21
not available*
75
19534
$14
not available*
30
45049
$7
not available*
13
84129
$5
not available*
7
*Real time data on prizes below $25 are not available.
All tickets, transactions, and winners are subject to Lottery Rules and State Law. Prizes must be claimed within 180 days after the official end of game. Persons altering tickets are subject to prosecution. You must be at least 18 years old to purchase a ticket.