$2,000

Top Prize

$2.00

Ticket

1:3.68

overall odds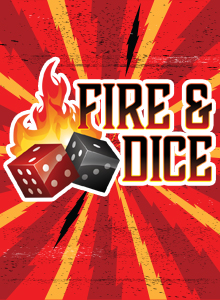 Play Fire & Dice, where the game is red hot and the prizes come in cold hard cash! Fire and Dice is a hot ticket with a top prize of $2,000 and loaded with winners.
In the game, add the numbers on the "HOT DICE" and "YOUR DICE" for Rolls 1 through 5. Each Roll is played separately. If the sum of "YOUR DICE" is higher than the "HOT DICE" number in any single roll, you win the prize shown for that roll.
Fire and Dice, the hottest game in Idaho. Just don't burn yourself when you win the top prize of $2,000!
Number of Prizes
Prize Amount
Odds
2
2000
37500
20
250
3750
100
50
750
400
25
188
1050
10
71
2100
7
36
3700
5
20
5000
3
15
8000
2
9
Tickets expire 180 days from date of purchase.
InstaPlay games cannot be canceled.
InstaPlay Games are drawn sequentially from a pool of tickets specified for each individual game.
Tickets can be validated at any time.
InstaPlay tickets will only have one play per ticket.
There are no advance draws for InstaPlay Games.