$47,000

Top Prize

$7

Ticket

1:3.14

overall odds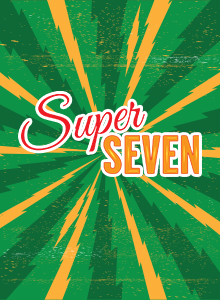 Everything is coming up lucky when you play Super Seven, the InstaPlay Game from the Idaho Lottery. And the best part, you could win $47,000 instantly! Seven is the name of this game, from the price of the ticket to the prizes that, surprisingly, are all seven-themed.
In Super Seven, players receive a giant, super-sized 7 filled with numbers in circles in the play area. Count the number of 7 symbols that appear in the play area. You'll be "superific" when you find five or more and you'll increase your funds by winning the prize shown. With prizes that range from $7 to $47,000 you'll be glad you found this super fun game - seven times over!
Number of Prizes
Prize Amount
Odds
2
47000
120000
5
7777
48000
30
477
8000
50
377
4800
125
277
1920
750
177
960
1500
77
160
2500
37
96
17000
17
14
20000
10
12
35000
7
7
Tickets expire 180 days from date of purchase.
InstaPlay games cannot be canceled.
InstaPlay Games are drawn sequentially from a pool of tickets specified for each individual game.
Tickets can be validated at any time.
InstaPlay tickets will only have one play per ticket.
There are no advance draws for InstaPlay Games.