$100,000

Top Prize

$10

Ticket

3.21

overall odds

93.89%

sold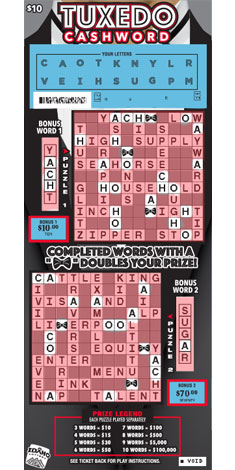 Formal attire never dressed quite so fashionably or proved so profitable. This is the game that could dress you in $100,000. And that's a good look. Sharp. Refined. Polished. It's Tuxedo Cashword where winning makes you look like a hundred-thousand bucks.
Tuxedo Cashword plays like a traditional Idaho Lottery $10 cashword game. Players scratch the YOUR LETTERS" area to reveal Your Letters. Match those letters to each corresponding letter in the prize puzzles. When you uncover at least three or more complete words in Cashword Puzzle 1 or Cashword Puzzle 2, you win the corresponding prize in the prize legend. And in this game, the phrase black tie is optional could win you double your prize. If you win in either Cashword puzzle and one of your words contains a black bow tie symbol, you win double your prize. If you complete either of the two Bonus Words, you win the prize for the bonus word instantly. Complete ten words and win the game's top prize of $100,000.
Winning is in fashion when you play Tuxedo Cashword. You could take home a handsome top prize of $100,000. Try it today.
Number of Prizes
Prize Amount
Remaining Prizes
Odds
2
$100,000
1
308288
4
$5,000
0
154144
20
$1,000
2
30829
432
$500
29
1427
1244
$200
95
496
7736
$100
580
80
12299
$50
1023
50
10298
$30
828
60
74038
$15
not available*
8
86247
$10
not available*
7
* Real time data on prizes below $25 are not available.