$500

Top Prize

$1

Ticket

1:3.36

overall odds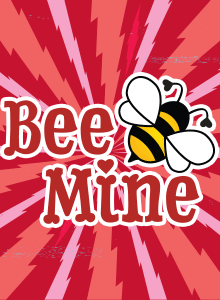 Luck and love often run together, hand in hand. Especially when there's luck to falling in love. And who could forget the candy hearts that said, "I Love You" or "Be Mine"? This Valentine's Day, the Idaho Lottery wants to remind you of what it was like to get a love letter. Only the Bee Mine version of Lottery love letters comes with a busy bumblebee and a top prize of $500.
To play Bee Mine, match YOUR LETTERS to complete words 1 through 5. If you complete an entire word, you win the prize shown for that word.
You can do a little cash crushin' over the InstaPlay game Bee Mine, where you could win up to $500. Ah, love never smelled as sweet as Bee Mine for Valentines!
Number of Prizes
Prize Amount
Odds
4
500
12500
35
50
1429
100
25
500
250
7
200
1000
3
50
6000
2
8
7500
1
7
Tickets expire 180 days from date of purchase.
InstaPlay games cannot be canceled.
InstaPlay Games are drawn sequentially from a pool of tickets specified for each individual game.
Tickets can be validated at any time.
InstaPlay tickets will only have one play per ticket.
There are no advance draws for InstaPlay Games.