$600

Top Prize

$1

Ticket

1:2.22

overall odds

83.17%

sold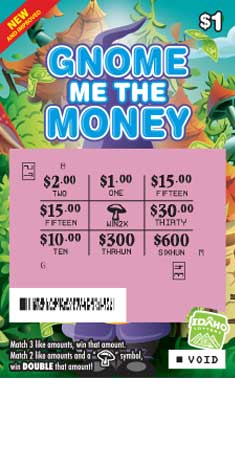 It's an all-new $1 game with great prize payouts and an even better second chance game with the best odds ever offered on $1 Scratch games that will dig up the garden for winnings!
Gnome Me the Money is the friendliest looking garden game ever from the Idaho Lottery. There are four brightly colored gnomes with a surprising amount of cash! Players scratch the gnome and match three like symbols to win that amount. Players who match 2 like amounts and a "mushroom symbol" win double the prize! And best of all, this game has a lot of $600 winners!
All non-winning, $1 Idaho Lottery Gnome Me the Money Scratch tickets will be eligible for entry into a once a week drawing to win $100. Players may enter at vip.idaholottery.com or by tele-entry at 208-334-4656. And there's no end in sight for the $100 weekly winners.
Try this game and when you win, you'll be saying, "Gnome Me the Money!"
Number of Prizes
Prize Amount
Remaining Prizes
Odds
3
$600
1
286500
5
$300
3
171900
15
$100
5
57300
1387
$30
398
620
2155
$20
not available*
399
2865
$10
not available*
300
4987
$5
not available*
172
66595
$2
not available*
13
308745
$1
not available*
3
*Real time data on prizes below $25 are not available.
All tickets, transactions, and winners are subject to Lottery Rules and State Law. Prizes must be claimed within 180 days after the official end of game. Persons altering tickets are subject to prosecution. You must be at least 18 years old to purchase a ticket.