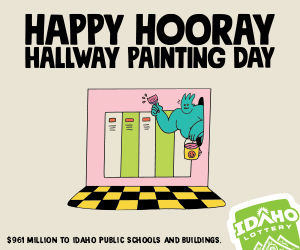 Success in the classroom can have as much to do with attitude as it does with smarts. Could anything else possibly make learning more inviting, relaxing, or cheerful to welcome students back to school than freshly painted walls, halls, and the exterior of the buildings?
A study conducted by members of the WellU Academic Integration Subcommittee of The College of St. Scholastica's College's Healthy Campus Initiative plan and documented by American School & University Magazine (Johnson and Maki, August 1, 2009) showed empirical evidence how the quality of a building affected academic outcomes. The results showed classroom color reduced off-task behavior and anxiety while positively affecting perceptions of learning and an overall sense of well-being. "Classrooms painted with color, lighted with full-spectrum lighting, and devoid of visual noise resulted in students with reduced blood pressure; less off-task behavior, aggressiveness, disruptiveness; and improved academic performance."
And while there are no direct studies linking academic success to brightly colored and freshly painted school walls in Idaho, we do know many districts and charter schools in the Gem State have spruced up their facilities, inside and out. Not to mention a fresh coat of paint helps keep a building young, reducing long-term maintenance and care, which helps some schools last generations.
Nearly 25% of Idaho districts or charter schools updated their facilities with fresh paint before starting the 2019 school year. Perhaps your student attends one of them. The Idaho Lottery is a proud partner with the Department of Education and are glad that we could provide the funds necessary to add a splash of color, giving schools a fresh face to the start of the year and welcome fresh ideas from students. So today, this Thursday in February, let's celebrate Happy Hooray Hallway Painting Day with the Idaho Lottery and these districts and schools:
American Heritage Charter School
Basin School District
Blaine County School District
Boise Independent School District
Butte County School District
Castleford Joint School District
Challis Joint School District
COSSA (Centerpoint Alt Sec Sch)
Dietrich School District
Emmett Independent School District
Falcon Ridge Charter School
Filer School District
Kamiah Joint School District
Kimberly School District
Kootenai Joint School District
Legacy Charter School
Mackay Joint School District
McCall-Donnelly Joint School District
Midvale School District
Minidoka County Joint School District
Moscow Charter School
Mountain Home School District
Mountain View School District
Murtaugh Joint School District
New Plymouth School District
Nezperce Joint School District
North Gem School District
North Star Charter School
Parma School District
Post Falls School District
Preston Joint School District
Richard McKenna Charter High School
Richfield School District
Salmon River Joint School District
Salmon School District
South Lemhi School District
Snake River School District
Weiser School District
West Ada School District
West Bonner County School District
West Side Joint School District
Wilder School District