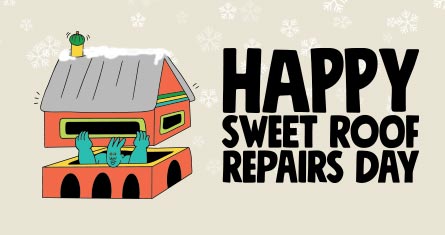 ​
The holiday season evokes distinct, nostalgic images of snow-globe-like flakes falling from the sky, sleigh bells, frosty snowmen, and lighted trees on dark, cold winter nights. With all the holiday festivities, children become excitable the closer that certain magical day approaches, often making it hard to concentrate in class and on schoolwork. With all this excitement, it is easy to overlook what is keeping everyone warm and on these dark snowy days is the roof on top of the school building.
Working hard, the roofs of Idaho's schools endure well-below freezing temperatures and, in any given year, a few feet of fresh snowfall. While the snow can make outdoor play for the students a lot of fun, the weight of the snow on the roof is a concern for many schools.
So, what happens during those epic winters Idaho is so famous for, where storms can leave four feet of wet, heavy snow? In 2009, the historic Lakeside Elementary School in the Plummer-Worley School District was closed due to an imminent hazard that increased snowfall would cause a catastrophic failure of the roof. In 2014, the same happened to Salmon Junior High School.
Regular maintenance and repairs of school roofs is one way to ensure they last, maintain their integrity, and provide the security for a safe learning environment. The harsh winter conditions of the past several years could explain why so many school districts and charter schools have made repairs or replaced their roofs.
The Idaho Lottery was created to benefit public schools. Our funds are used primarily for the maintenance and repairs necessary to keep student-occupied buildings operational and safe. After "Snowmaggedon" in the winter of 2016 and 2017, during the 2018 school year a total of 49 different school districts or charter schools made improvements to, or replaced, a roof(s) using Idaho Lottery funds. So today, let's celebrate the safety, warmth, and comfort from a quality roof on Idaho's schools. Happy Sweet Roof Repair Day, Idaho!
Here is a look at all the schools who made roof repairs or replaced a roof:
List of schools/districts
American Falls Joint School District
Bear Lake County School District
Bliss Joint School District
Boise School District
Bonneville Joint School District
Boundary County School District
Caldwell School District
Camas County School District
Cambridge Joint School District
Cascade School District
Coeur d'Alene Charter Academy
Coeur d'Alene School District
Firth School District
Fremont County Joint School District
Glenns Ferry Joint School District
Hansen School District
Heritage Academy
Homedale Joint School District
Idaho Falls School District
Kamiah Joint School District
Kimberly School District
Kootenai Bridge Academy Charter School
Kootenai Joint School District
Kuna Joint School District
Lake Pend Oreille School District
Lakeland School District
Lapwai School District
Lewiston Independent School District
Madison School District
Marsh Valley Joint School District
McCall-Donnelly Joint School District
Nampa School District
Nez Perce Joint School District
North Valley Academy
Notus School District
Oneida County School District
Orofino School District
Parma School District
Payette Joint School District
Pocatello School District
Post Falls School District
Richfield School District
Salmon School District
Taylor's Crossing School District
Valley School District
Wallace School District
West Ada School District
Whitepine Joint School District
Wilder School District