January 23, 2013 - Boise - Twinkling lights and family ornaments are iconic images and common decorations on Christmas trees during the Holiday season, but for one Nampa man, a gift to his family that became a new Christmas tree ornament turned out to be worth $1,000,000. Mark Rossiter bought an Idaho $1,000,000 Raffle ticket from the Maverik Store in Star on November 28, 2012, took it home in its orange envelope, and placed it among the branches of the family's Christmas tree, hoping they might win. The envelope, with Raffle ticket number 108847 inside, became worth $1,000,000 on January 2, 2013 and stayed on the tree until the family took down their holiday decorations over the Martin Luther King Day holiday.
"We were a little slow in taking down our decorations this year," explained Rossiter when he claimed the winning ticket at Idaho Lottery offices. "I pulled the ticket off the tree and went to check the number on the Internet just to be sure it wasn't a winner before we threw it away. When I did, holy moly, we had the $1,000,000 ticket."
For the third consecutive year, a Maverik Store has sold the top prize in the Idaho $1,000,000 Raffle. The Maverik in Star is the company's newest location in the Treasure Valley. It is also the closest location to Rossiter's residence and where he buys gas.
"I went in to buy a couple of Powerball tickets for the big jackpot," added Rossiter, referring to the record setting $579.9 million Powerball jackpot in late November. "I bought the ticket as a gift to the family thinking my odds of winning a million dollars on the Raffle were better than on Powerball. I guess I was right!"
Statewide, all Maverik stores sold 9.5% of all Idaho $1,000,000 Raffle tickets. For their part in selling the winning $1,000,000 ticket, Maverik receives a bonus from the Idaho Lottery for $20,000.
"Maverik would like to congratulate Mark Rossiter as the winner of the Idaho $1,000,000 Raffle. Mr. Rossiter picked up his ticket at our great store in Star, Idaho. We hope this big win will be the start of another great adventure!" said Ernie Harker, an Executive Director for Maverik.
"The next time I play, I'm going to Maverik," exclaimed Rossiter. He and his family plan to pay down bills, set aside money for college, and invest the rest of the winnings.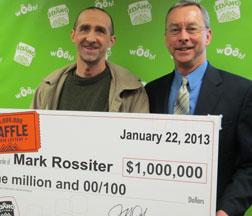 ###