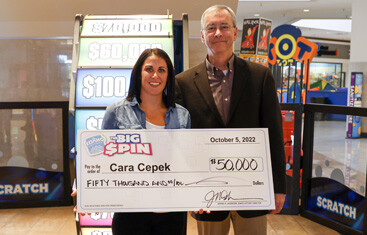 FOR IMMEDIATE RELEASE

BOISE, Idaho – In many respects, buying an Idaho Lottery Scratch ticket that wins a Big Spin Event is like finding the magical, golden ticket. For Cara Cepek, Caldwell, that's exactly what happened when she bought, played, and won the sixth Big Spin winning ticket in the popular game that debuted in mid-July.

"I couldn't believe it. One of my favorite movies is Charlie and Chocolate Factory, and for me, this was like finding my own golden ticket," Cepek explained during her Big Spin Event at Boise Towne Square.

With friends, family, and many onlookers, Cepek spun the Big Spin Wheel and won $50,000. Cara said she plans to save her winnings but might use some of it for a Caribbean cruise.

Cepek's win officially ends the first edition of the Big Spin. The Big Spin game is the most successful $5 Idaho Lottery Scratch Game in its 33-year history. The second edition of the Big Spin Scratch Game will begin arriving in Idaho Lottery retail locations on October 17. The new game also features six, Big Spin Event top prizes.

Cepek said she's hopeful to win again and make a return visit to spin the wheel a second time when the newest version of the game comes out later this month. "You can't win if you don't play, and I intend to keep playing!" she added.

###

ABOUT THE IDAHO LOTTERY
The Idaho Lottery responsibly provides a variety of entertaining games featuring Powerball, Mega Millions, Scratch GamesTM, and PullTabs with a high degree of integrity to maximize the dividend for Idaho public schools and the permanent building fund. Since their inception in 1989, the Idaho Lottery has sold over $5 billion in products, awarded more than $3.1 billion in prizes to players, returned $293 million in retail commissions, and distributed $1.1 billion in Lottery dividends to Idaho public schools and buildings. To learn more, please visit www.idaholottery.com.