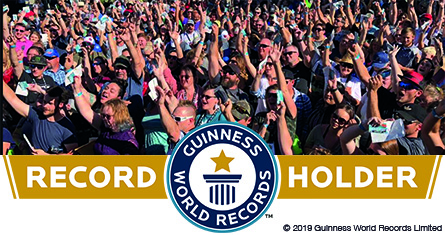 BOISE, Idaho ÔÇô The Idaho Lottery is now the official GUINNESS WORLD RECORDS title holder for the Largest gathering of people scratching scratch cards. A total of 479 people scratched their official GUINNESS WORLD RECORDS title attempt Cards during the Idaho Lottery's 30th Anniversary celebration at 6:05 pm on July 19, 2019, to break the previous GUINNESS WORLD RECORDS title.
The Idaho Lottery was notified by GUINNESS WORLD RECORDS on August 08, 2019 of their successful attempt. Idaho is the first Lottery in the world to offer an Official Attempt Scratch Game. The game went on sale to the public on June 17, 2019 and was used exclusively during the GUINNESS WORLD RECORDS title attempt. Idaho also becomes the first Lottery to hold this GUINNESS WORLD RECORDS title.
"We are proud of our GUINNESS WORLD RECORDS title and are humbled by the 479 participants who took time to join us for our 30th Anniversary celebration and make it possible," said Jeff Anderson, Idaho Lottery Director. "We set the bar for this record very high and we hope that it stands for a long time. This record is not just for the Lottery, but all Idahoans who have supported the Lottery and our good causes for thirty years. Thank you, everyone."
The GUINNESS WORLD RECORDS title certificate is on display at the Idaho Lottery. The Idaho Lottery broke the previous record of 386 participants that was set just two days before their own attempt on July 17, 2019 in Amsterdam, Netherlands.
# # #
ABOUT THE IDAHO LOTTERY
The Idaho Lottery responsibly provides a variety of entertaining games featuring Powerball, Mega Millions, Scratch GamesTM, and PullTabs with a high degree of integrity to maximize the dividend for Idaho public schools and the permanent building fund. Since their inception in 1989, the Idaho Lottery has sold over $3.9 billion in products, awarded more than $2.4 billion in prizes to players, returned $232.6 million in retail commissions, and distributed $906 million in Lottery dividends to Idaho public schools and the Permanent Building Fund. To learn more, please visit www.idaholottery.com.