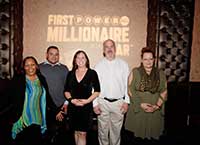 BOISE, Idaho -An Idaho woman has a million reasons to wait for the ball to drop at midnight in New York City's Times Square. Cathie Ritchie from Nampa, Idaho is one of five finalists in the running to become the "First POWERBALL Millionaire of the Year" SM and win a promotional prize of $1,000,000 on January 1, 2020 on LIVE national television.
Country singer Jessie James Decker announced Ritchie as one of the five finalists Sunday night in New York City during a welcome reception held for all the Powerball VIP promotional winners from across the United States. As part of a national POWERBALL® promotion, one of these five finalists will be randomly chosen to win $1,000,000 during ABC's live broadcast of "Dick Clark's New Year's Rockin' Eve with Ryan Seacrest 2020."
"Congratulations to Cathie Ritchie on being one of the five finalists for the First Powerball Millionaire of the Year," said Jeff Anderson, Idaho Lottery Director. "Idaho has a long history of good luck with Powerball winners and we wish her all the best tomorrow night."
Anderson described how Ritchie got to New York City for this New Year's Eve. She was one of thousands of Idaho Lottery players who participated in a Powerball sweepstakes draw with Powerball Arcade. Ritchie, and other players across Idaho, entered non-winning Powerball tickets from mid-June through early October for the New Year's Rockin' Eve VIP trip. Ritchie's entry was one of 8,506 entered by Idaho VIP Club members for the opportunity to win this once in a lifetime trip to spend New Year's Eve in New York City at Times Square and the chance to be the first millionaire of the new decade. She joins three hundred people from 25 different North American lottery jurisdictions who participate in Powerball are in New York as part of the promotion.
"I don't ever win. I've never won anything in my life. Just to get here was amazing and now to be one of the five finalists is unbelievable," said Ritchie. "If I can have half as much good luck as I've had bad luck, then I'll win the million dollars for sure."
The winning draw and announcement will be made live at about 10:15 PM MT during ABC's broadcast of "Dick Clark's New Year's Rockin' Eve with Ryan Seacrest 2020."
The First POWERBALL Millionaire of the Year promotion brought second-chance drawing winners and their guests to New York City for the ultimate VIP experience. After a series of holiday-themed VIP experiences across Manhattan, the winners and their guests will gather for an exclusive New Year's Eve gala featuring a performance from Jessie James Decker at the Crowne Plaza Hotel Manhattan in Times Square. The party will culminate with the First POWERBALL Millionaire of the Year drawing.
# # #
ABOUT THE IDAHO LOTTERY
The Idaho Lottery responsibly provides a variety of entertaining games featuring Powerball, Mega Millions, Scratch GamesTM, and PullTabs with a high degree of integrity to maximize the dividend for Idaho public schools and the permanent building fund. Since their inception in 1989, the Idaho Lottery has sold over $3.9 billion in products, awarded more than $2.4 billion in prizes to players, returned $232.6 million in retail commissions, and distributed $906 million in Lottery dividends to Idaho public schools and the Permanent Building Fund. To learn more, please visit www.idaholottery.com.