FOR IMMEDIATE RELEASE
BOISE, Idaho – The year 2020 is turning out to be a little better for one man and his wife who moved to Burley from Arkansas this summer. Michael Clark won $300,000 from the first top prize on the Idaho Lottery's new Scratch Game, 100X the Cash from a ticket he purchased Friday night at Mr. Gas on Overland and 21st in Burley.
"My wife wanted a couple of late-night snacks, so we walked to the store together," explained Clark on how he got to the store and bought the ticket. "I had a $50 winner, so I cashed it and bought just the one 100X the Cash ticket. I scratched the bar code, scanned it, and it said I had to claim it at the Lottery. I thought I'd won maybe $1,000."
Turns out Clark won a lot more. He started playing the ticket and uncovered the winning number. "The zeroes on the prize just kept coming, three of them, then another and another. It was unbelievable!" Clark said. "I never buy tickets from the big, tall vending machine. I always get them at the counter. But I bought this one from the vending machine. That winning ticket made it's way to Burley and if we'd been five minutes earlier or five minutes later, who knows, I might not have won."
A new resident to Idaho, Clark, has been working in Idaho off and on for a couple of years until he and his wife Cortnie decided to move to the Magic Valley full-time from Texarkana, Arkansas. Clark plans to invest his winnings for the future.
For selling the winning ticket, Mr. Gas receives a bonus of $20,000.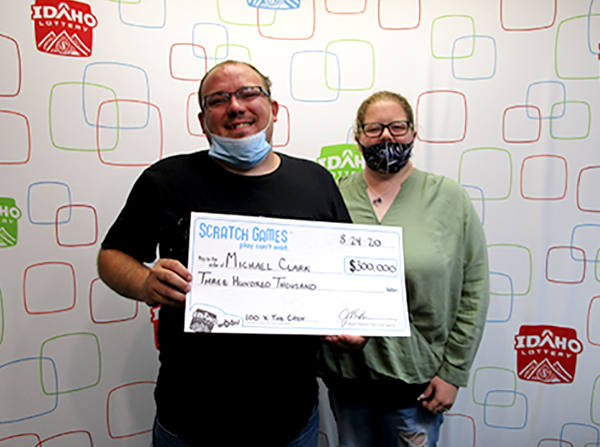 ###
ABOUT THE IDAHO LOTTERY
The Idaho Lottery responsibly provides a variety of entertaining games featuring Powerball, Mega Millions, Scratch GamesTM, and PullTabs with a high degree of integrity to maximize the dividend for Idaho public schools and the permanent building fund. Since their inception in 1989, the Idaho Lottery has sold over $4.2 billion in products, awarded more than $2.6 billion in prizes to players, returned $249 million in retail commissions, and distributed $961.5 million in Lottery dividends to Idaho public schools and the Permanent Building Fund. To learn more, please visit www.idaholottery.com.