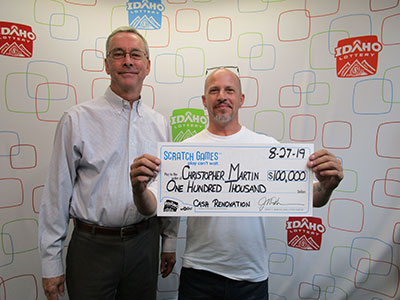 ÔÇïFOR IMMEDIATE RELEASE
BOISE, Idaho ÔÇô A long haul truck driver from Pocatello is the latest big Idaho Lottery winner. Christopher Martin won the first top prize of $100,000 on the Scratch Game Cash Renovation from a ticket he purchased at the Common Cents store on Arthur in Pocatello. While a regular player, this was the first time he had purchased a Cash Renovation ticket.
"I had $110 in winning tickets, so, I pocketed the $100 and played the remaining $10 on a game I had never played," explained Martin on his winning experience. "I was playing on house money."
Martin usually only scratches the bar code and then checks to see if his ticket is a winner. This time, though, the sound of winning was different and the store clerk at Common Cents told him he needed to go to Boise to claim his prize.
"Oh my lord!" he exclaimed when he had the ticket scanned for payment at the Lottery Offices on Tuesday morning. "This could not have come at a better time."
Martin had been concerned over several expensive repairs to a semi-truck used for his work. Now, he'll be able to pay those and relieve his concerns.
For their part in selling the winning ticket, Common Cents receives a bonus from the Idaho Lottery for $10,000.
# # #
ABOUT THE IDAHO LOTTERY
The Idaho Lottery responsibly provides a variety of entertaining games featuring Powerball, Mega Millions, Scratch GamesTM, and PullTabs with a high degree of integrity to maximize the dividend for Idaho public schools and the permanent building fund. Since their inception in 1989, the Idaho Lottery has sold over $3.9 billion in products, awarded more than $2.4 billion in prizes to players, returned $232.6 million in retail commissions, and distributed $906 million in Lottery dividends to Idaho public schools and the Permanent Building Fund. To learn more, please visit www.idaholottery.com.