$30,000

Top Prize

$3

Ticket

1:3.59

overall odds

75.96%

sold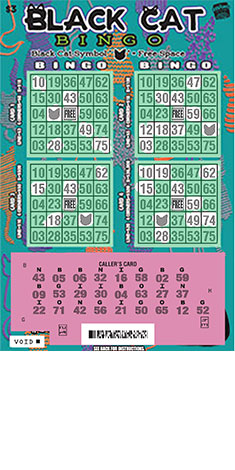 Here, kitty, kitty, kitty.
Truth be told, not all black cats are bearers of ill fortune. In fact, there are many cultures and customs around the world who believe that crossing the path of a black cat is actually good luck. So, depending on your point of view, depending on your beliefs, a black cat can be anything from an omen (good or bad) to appearing on your doorstep and bringing you prosperity! Why even in ancient Egypt, black cats were considered sacred!
It stands to reason then, that Black Cat Bingo, the game with cat's eyes glowing and a "purr-fect" top "purrrrize" of $30,000 is certain to bring success and good fortunes for those who play.
So try Black Cat Bingo at your favorite lottery retail store. Even for the superstitious types, be careful what you wish for because Black Cat Bingo just might change your opinions and bring you $30,000 worth of good luck!
Prize Amount
Number of Prizes
Remaining Prizes
Odds
$30,000
2
1
1:354,440
$500
10
2
1:70,880
$106
357
89
1:1,985
$100
262
70
1:2,705
$50
707
245
1:1,002
$46
1,187
287
1:597
$20
3,538
not available*
1:200
$18
14,176
not available*
1:50
$10
14,188
not available*
1:50
$8
28,318
not available*
1:25
$5
42,562
not available*
1:17
$3
92,178
not available*
1:8
* Real time data on prizes below $25 are not available.
All tickets, transactions, and winners are subject to Lottery Rules and State Law. Prizes must be claimed within 180 days after the official end of game. Persons altering tickets are subject to prosecution. You must be at least 18 years old to purchase a ticket.