$50,000

Top Prize

$5

Ticket

1:3.21

overall odds

0.01%

sold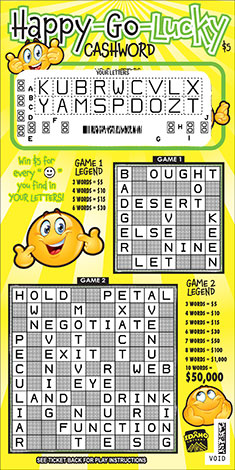 Sunshine all the time. Smiles all around. Living large and winning cool. Winning, that gets you in the groove. You might even find yourself in a field of lucky four leaf clovers. Certainly, it's the happiest, feel-good game of the year from the Idaho Lottery. It's the $5, Happy-Go-Lucky Cashword that will, well, just make you smile when you buy the ticket.
Happy-Go-Lucky comes with an ever happy winning experience up to an easy-going, laid-back vibe of a win worth $50,000. That's right, 50,000 cool-deal, George Washingtons.
They say smiling is infectious, so maybe is the winning on this game. Four big happy smiles on the ticket art, plus, $5 for every smiley face you find in YOUR LETTERS. That's an afternoon breeze on a cool summer day.
So, don't worry, be Happy-Go-Lucky and play for your chance to win $50,000! If that won't put a smile on your face, nothing will!
Prize Amount
Number of Prizes
Remaining Prizes
Odds
$50,000
2
2
369150
$1,000
3
2
246106
$100
152
147
4857
$60
451
440
1637
$50
1126
1093
656
$30
9058
8808
82
$20
12306
not available*
60
$15
29550
not available*
25
$10
88605
not available*
8
$5
88520
not available*
8
* Real time data on prizes below $25 are not available.
All tickets, transactions, and winners are subject to Lottery Rules and State Law. Prizes must be claimed within 180 days after the official end of game. Persons altering tickets are subject to prosecution. You must be at least 18 years old to purchase a ticket.