$30,000

Top Prize

$5

Ticket

1:3:36

overall odds

60.31%

sold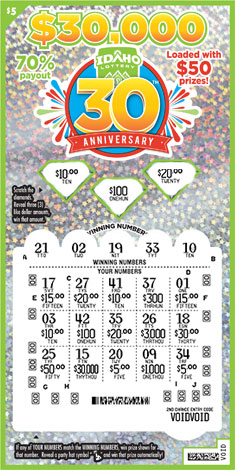 What better way to celebrate a 30th Anniversary than with diamonds and fireworks? That's what players will be able to do playing the $5, 30th Anniversary Game this year. The sparkling ticket comes with a top prize of $30,000 and is loaded with $50 prizes, and offers more than $1 million in total cash prizes for the entire game!
The $5 game features two big games on every single ticket, starting with the three big diamonds where players who match three like amounts win that amount. A big bang brings in the final game with lots of fireworks and prizes for players who match WINNING NUMBERS to YOUR NUMBERS, or find a party hat in the play area to win that prize.
This game also features the second-chance opportunity to win one of the ten, $3,000 prizes. All non-winning tickets may be entered exclusively through the Idaho Lottery's free VIP Club. Players scratch off an 8-digit alphanumeric second chance entry code at the bottom of their ticket. They enter their code to access an exciting, interactive on-line second chance game where they use their code to reveal or play to win entries into the next drawing. All these entries are entered through the Lottery's VIP Club for a chance to win one of ten, $3,000 prizes drawn once every-other week beginning on March 15, 2019. The last $3,000 top prize will be awarded on the Lottery's Anniversary - July 19, 2019.
Parties always have something for everyone and the $5, 30th Anniversary game does not disappoint with eighteen different ways to win up to $30,000 in cash!
Number of Prizes
Prize Amount
Remaining Prizes
Odds
3
$30,000
1
170000
2
$3,000
1
255000
4
$1,000
2
127500
170
$300
63
3000
459
$100
204
1111
7310
$50
3139
70
1088
$30
465
469
10200
$20
not available*
50
20400
$15
not available*
25
23800
$10
not available*
21
88400
$5
not available*
6
*Real time data on prizes below $25 are not available.