$300,000

Top Prize

$30

Ticket

1:2.54

overall odds

69.22%

sold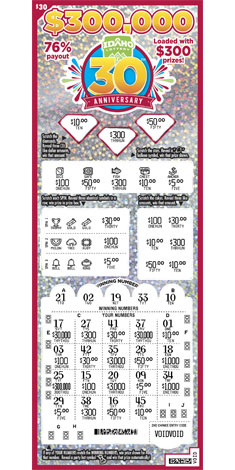 It's the biggest party of the year and it's coming to your town, starting in February! On July 19, 2019, the Idaho Lottery will celebrate its 30th Anniversary. Get the cake ready, blow up the balloons, break-out the fireworks and get ready to celebrate 30 years of winning excitement!
To commemorate our 30th Anniversary, the Idaho Lottery is introducing its first-ever, $30 Scratch Game with a top prize of $300,000! This game sparkles. It dazzles. It glitters. It glistens. It's loaded with $300 prizes, more than $11 million in total cash prizes and offers a whopping 76% payout! Now that's worth throwing a party over. This game features all great things lottery including a built-in, second chance feature for non-winning tickets where players can enter to win one of ten, $3,000 given away every two weeks beginning March 15, 2019.
The $30, 30th Anniversary game features five different games on a single ticket. Since the 30th Anniversary is traditionally celebrated with diamonds, the first game on the ticket asks players to scratch three ginormous diamonds. If they find three like dollar amounts under all three diamonds, they win that prize. The second game features five gold stars. Players scratch the five gold stars and win the prize shown for each balloon they uncover. Game three features party hats, balloons, and more stars. Players who reveal three identical symbols in the same row win the prize for that row.
For those who want their cake and winning, too, game four is for them. Players scratch the six party cakes. If they reveal three like dollar amounts under the cakes, they win that dollar amount. And no big Lottery party would be complete without money bags and fireworks, right? The fifth game on the ticket asks players to match any of the WINNING NUMBERS under the money bags to YOUR NUMBERS under the fireworks. Each number that matches win the prize shown for that number. If you reveal a party hat symbol in the final game, you win that prize instantly.
The party isn't over yet. All non-winning tickets may be entered exclusively through the Idaho Lottery's free VIP Club. Players scratch off an 8-digit alphanumeric second chance entry code at the bottom of their ticket. They enter their code to access an exciting, interactive on-line second chance game where they use their code to reveal or play to win entries into the next drawing. All these entries are entered through the Lottery's VIP Club for a chance to win one of ten, $3,000 prizes drawn once every-other week beginning on March 15, 2019. The last $3,000 top prize will be awarded on the Lottery's Anniversary - July 19, 2019.
This game is exploding with so much cash, there's a party in every play! Celebrate the Idaho Lottery's 30th Anniversary with the first-ever $30 Scratch game.
Number of Prizes
Prize Amount
Remaining Prizes
Odds
2
$300,000
1
253225
4
$30,000
2
126613
46
$3,000
19
11010
57
$1,000
19
8885
12149
$300
4161
42
9706
$100
3266
52
35334
$50
12055
14
141806
$30
49145
4
*Real time data on prizes below $25 are not available.