$50,000

Top Prize

$5

Ticket

1:3.20

overall odds

99.75%

sold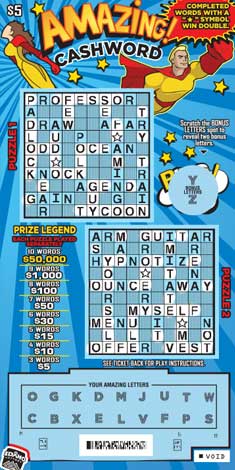 Look! Up in the dispenser! It's a bird, no, it's a plane, no, it's AMAZING CASHWORD! Faster than a speeding ticket scan with more winning and more excitement, it's a Cashword game for the superhero in everyone! Amazing Cashword is so incredible, it comes with a top prize of $50,000! That's Amazing!
This superhero-inspired game features two playing puzzles that are played separately. Players scratch off all eighteen of YOUR AMAZING LETTERS hidden under the gold stars at the bottom of the ticket. They then match each letter to each corresponding letter in one of the game puzzles. Players can then scratch the two bonus letters from the BAM! Bonus spot and match those letters to those in the puzzles. If you match three words or more in any single puzzle you win the prize shown in the prize legend, all the way up to $50,000! Now that's a superhero prize!
So don your cape, strap on your mask, and zoom into your nearest Lottery retail location to play AMAZING CASHWORD! The only thing missing from this game is the amazing superhero theme song! Okay, capes and masks aren't really required, but you'll still feel like a superhero when you win the top prize of $50,000!
Number of Prizes
Prize Amount
Remaining Prizes
Odds
2
$50,000
1
370350
4
$1,000
0
185175
471
$100
9
1573
372
$80
5
1991
1730
$60
29
428
1847
$50
40
401
9876
$30
306
75
7397
$20
not available*
100
29625
$15
not available*
25
66687
$10
not available*
11
113575
$5
not available*
7
*Real time data on prizes below $25 are not available.
All tickets, transactions, and winners are subject to Lottery Rules and State Law. Prizes must be claimed within 180 days after the official end of game. Persons altering tickets are subject to prosecution. You must be at least 18 years old to purchase a ticket.