$28,000

Top Prize

$3

Ticket

1:3.45

overall odds

70.22%

sold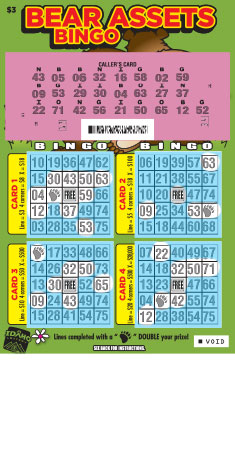 Bears live a relatively simple life. They forage through forests and meadows looking for berries and other means of sustenance. They take winter off to slumber and hibernate. On a hot day, you might find one taking a swim in a mountain stream or lake.
Bear Assets Bingo embodies the simpler, basic necessities of life with four cards and four different games that come with a top prize of $28,000. Now that's a lot of honey.
Bear Assets Bingo is a traditional Idaho Lottery Bingo game. Players scratch the CALLER'S CARD area to reveal twenty-five BINGO numbers. Players then scratch all the corresponding numbers on each of the four play CARDS. If on any one of the CARDS numbered 1 through 4, you match all the numbers in one complete horizontal, vertical, or diagonal line; or four corners; or an 'X', you win the prize in the prize legend corresponding to that card. FREE = Extra Free Space in all four games. Lines completed with a "BEAR PAW" symbol DOUBLE your prize!
Look for Bear Assets Bingo in retail stores, win the game's grizzly top prize of $28,000 and forgot about your worries for a while and just enjoy life!
Number of Prizes
Prize Amount
Remaining Prizes
Odds
2
$28,000
1
377350
8
$500
2
94338
101
$106
39
7472
197
$100
78
3831
1014
$50
429
744
2039
$36
778
370
3739
$20
not available*
202
15094
$18
not available*
50
15134
$10
not available*
50
30211
$8
not available*
25
15094
$6
not available*
50
22676
$5
not available*
33
113182
$3
not available*
7
*Real time data on prizes below $25 are not available.