$50,000

Top Prize

$5

Ticket

1:3.46

overall odds

99.78%

sold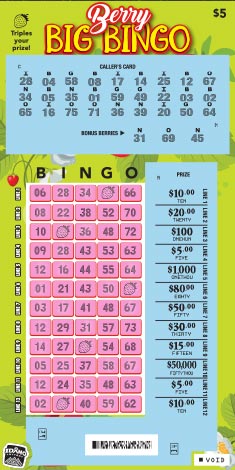 Scrumptious. That could be the perfect descriptor of Berry Big Bingo. Not only is the ticket covered with delicious looking strawberries it also comes with a tantalizing top prize of $50,000. Now that's Berry Big.
To play the game, players scratch off the CALLER'S CARD area to uncover your numbers. Then, you can also scratch the three strawberries for the BONUS BERRIES numbers. Players then scratch all the corresponding numbers in each horizontal line. When you scratch all five numbers to complete a line, you win the prize that line. Players can win up to twelve times on each ticket. If you complete a line with a "BERRY SYMBOL", you win triple your prize.
Playing a bingo scratch game was never quite as appetizing as Berry Big Bingo, especially when you claim the berry big top prize of $50,000!
Number of Prizes
Prize Amount
Remaining Prizes
Odds
2
$50,000
1
243938
3
$1,000
0
162625
408
$100
3
1196
2444
$50
61
200
6342
$30
229
77
11390
$20
not available*
43
14630
$15
not available*
33
45534
$10
not available*
11
60167
$5
not available*
8
*Real time data on prizes below $25 are not available.
All tickets, transactions, and winners are subject to Lottery Rules and State Law. Prizes must be claimed within 180 days after the official end of game. Persons altering tickets are subject to prosecution. You must be at least 18 years old to purchase a ticket.