$30,000

Top Prize

$3

Ticket

3.33

overall odds

95.09%

sold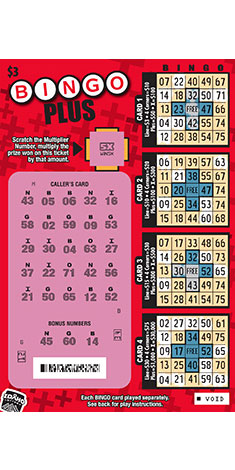 There's a new way to play bingo and the result could win you $50, $100, $500, or $1,000! Bingo Plus is the best, fun way to play your favorite Idaho Lottery Bingo Scratch Games, plus, you could win all the way up to $30,000!
This new look red-based bingo ticket plays like a traditional Idaho Lottery $3 Bingo game, only with a couple of extra added features. First, players need to scratch the multiplier number in the gold plus sign at the top of the ticket. This will tell you how much you can multiply any prize you win on the ticket - up to five times the prize!
Players then scratch all twenty-five numbers in the "Caller's Card" including the three bonus numbers at the bottom. Find all the corresponding matches from the Caller's Card in all four of the bingo cards. Get a single horizontal, vertical, or diagonal line and win the corresponding prize for that individual card. Get four corners, win that prize. Complete the plus in the center in any of the cards, and you could win up to $1,000 instantly! Get an X on any card and you could walk away with the game's top prize of $30,000. Now that's worth yelling "Bingo!" over.
And remember, you can only win one prize (the highest amount) on any individual card. Prizes can be won on ALL four cards so long as each card has a winning pattern. Each card is always played separately.
The fun new bingo game with a blue plus sign. It's Bingo Plus, where winning bingo could get you thirty-grand!
Number of Prizes
Prize Amount
Remaining Prizes
Odds
2
$30,000
1
374800
4
$1,000
2
187400
13
$500
2
57662
50
$300
11
14992
151
$100
31
4964
176
$75
17
4259
579
$50
105
1295
3254
$30
548
230
3752
$25
405
200
5617
$20
not available*
133
11236
$15
not available*
67
26242
$10
not available*
29
28119
$6
not available*
27
146174
$3
not available*
5
* Real time data on prizes below $25 are not available.