$3,000

Top Prize

$2

Ticket

1:2.76

overall odds

68.58%

sold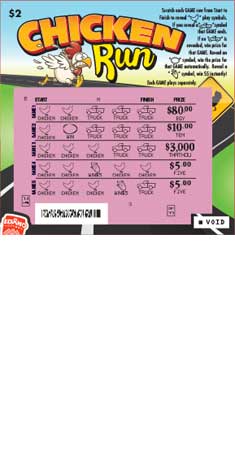 Why did the chicken cross the road? This riddle has besieged civilization for almost two hundred years. In the Idaho Lottery version, though, the answer is simple: to win $3,000!
Crossing many roads, highways, thoroughfares, parkways, boulevards, country lanes, bridges, and even a few railroad crossings, the $2 Chicken Run Scratch Game will make its debut in Lottery retail locations this spring. Get your running shoes on, have your scratcher ready, and head to your favorite store on a Chicken Run!
In the game, there are five rows of chicken feet running across the road toward the prize. Each row is a game. Scratch each game from Start to Finish, and reveal "chicken" symbols. If you reveal a "truck" symbol, that game ends. If you do not reveal a truck symbol and the chicken makes it across the road, you win the prize for that row only. If you reveal an "egg" symbol, you win the prize for that row automatically. If you reveal a "corn" symbol, you win $5 instantly!
Play Chicken Run when it zips into stores. And you'll be able to answer the age-old question, "Why did the chicken cross the road?" Easy – to win $3,000 from the Idaho Lottery!
Number of Prizes
Prize Amount
Remaining Prizes
Odds
4
$3,000
2
123075
5
$500
1
98460
136
$100
55
3620
908
$40
308
542
3692
$20
not available*
133
6154
$10
not available*
80
12309
$5
not available*
40
19691
$4
not available*
25
135382
$2
not available*
4
*Real time data on prizes below $25 are not available.
All tickets, transactions, and winners are subject to Lottery Rules and State Law. Prizes must be claimed within 180 days after the official end of game. Persons altering tickets are subject to prosecution. You must be at least 18 years old to purchase a ticket.