$30,000

Top Prize

$3

Ticket

1:3.29

overall odds

93.44%

sold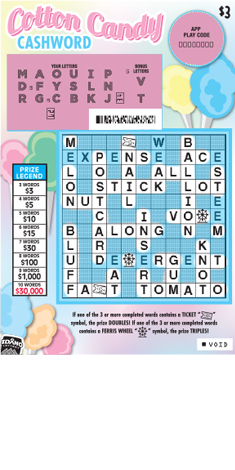 It's perhaps summer's all-time favorite snack. Whether you're strolling around the fairgrounds or walking the midway, cotton candy, or the smell of it cooking brings back the nostalgic days of sunshine and long, warm nights. Whether it's pink, blue, green, or purple, this version of cotton candy will brighten your summer days when you win up to $30,000!
To play the game, scratch the 18, YOUR LETTERS and 2 BONUS LETTERS hidden under the bouquets of cotton candy plumes to reveal all your letters. That's 20 possible letters out of 26. Then, players scratch the corresponding letters in the CASHWORD puzzle. If you uncover at least three or more completed words in the CASHWORD puzzle, you win the prize shown in the PRIZE LEGEND. If one of your three or more completed words contains a letter within a "TICKET" symbol, your prize DOUBLES! If one of the three or more completed words contains a letter within a "FERRIS WHEEL" symbol, your prize TRIPLES!
Cotton Candy Cashword plays like a traditional Idaho Lottery $3 Cashword game, complete with the Bonus Play Cashword 2nd Chance App Code where players can play additional Cashword games on-line and win entries for a chance at $300 in free Cashword tickets.
Pick up the tastiest treat of this summer and play Cotton Candy Cashword for your chance to win up to $30,000!
Number of Prizes
Prize Amount
Remaining Prizes
Odds
2
$30,000
0
401100
3
$1,000
0
267400
27
$300
2
29711
27
$200
4
29711
533
$100
29
1505
532
$90
42
1508
661
$60
54
1214
669
$45
55
1199
6423
$30
538
125
6023
$15
not available*
133
10021
$10
not available*
80
16044
$9
not available*
50
24051
$6
not available*
33
62206
$5
not available*
13
116279
$3
not available*
7
*Real time data on prizes below $25 are not available.
All tickets, transactions, and winners are subject to Lottery Rules and State Law. Prizes must be claimed within 180 days after the official end of game. Persons altering tickets are subject to prosecution. You must be at least 18 years old to purchase a ticket.