$100,000

Top Prize

$10

Ticket

3.96

overall odds

57.3%

sold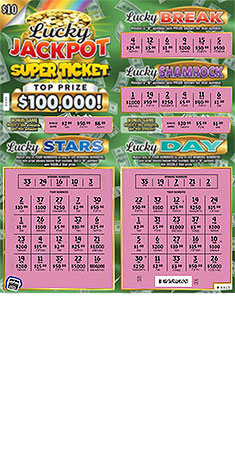 Luck comes in many forms. There are those who say luck is what you make of it. There are also those who believe you make your own luck. Some are born lucky while others have luck thrust upon them.
Whether it's playing and scratching with a lucky penny, or it's your lucky break, your lucky day, a lucky shamrock, or counting your lucky stars, the Lucky Jackpot Super Ticket from the Idaho Lottery is certainly counting its luck among the luckiest games around! Lucky Jackpot Super Ticket has it all, gold stars, green and gold four leaf clovers, twenty pots of gold, and even six lucky horseshoes turned upright to keep the luck from running out. And while there might not be a lucky rabbit's foot, Lucky Jackpot Super Ticket does come with a lucky top prize of $100,000!
It's raining money and gold on this Super ticket that's so big, it delivers six different games on one ticket – all for just $10. It's so big, it needs its own special dispenser. Just look for it on top of a regular dispenser or ask your retailer for the Lucky Jackpot Super Ticket. Prizes can be won anywhere at any time in any one of the six games, including the $100,000 top prize.
This could be your lucky day, your lucky break, or you might thank your lucky stars when you scratch win the top prize of $100,000 on Lucky Jackpot Super Ticket.
Keep in mind, due to its unique size, Lucky Jackpot Super Ticket is only available at participating Idaho Lottery retail locations.
Number of Prizes
Prize Amount
Remaining Prizes
Odds
2
$100,000
1
308000
3
$5,000
2
205333
4
$1,000
1
154000
392
$500
179
1571
1833
$200
799
336
9596
$100
4205
64
20523
$50
9002
30
24640
$25
10844
25
98560
$10
not available*
6
* Real time data on prizes below $25 are not available.